Crazy Cool Classroom: Mrs. Everett's Surf Shack set for Grand Opening!
Crazy Cool Classroom: Mrs. Everett's Surf Shack set for Grand Opening!
By Tyler Dahlgren
The year's first bell is about to ring, but who says summer needs to come to an end?
Sure, August's heat will soon give way to crisp fall days and, eventually, cold winter whiteouts. It sounds unlikely, but Julie Everett's incoming class of Meadowlark Elementary fifth-graders might soon confuse Kearney, Nebraska for Oahu.
Under bamboo shingles, hiding amongst a handful of Hibiscus flowers, the sign on the front door of Everett's Surf Shack reads 'Open', and it's not closing 'til next May.
There's a building-wide theme each school year at Meadowlark. Last year, the mantra was "Game On!", and teachers paid homage to video game classics through highly-detailed classroom dedication.
The theme for 2018-19 is "Catch the Wave of Learning". Everett's classroom is detailed, and meticulously so.
"I went with a surf shack, beachy theme," said Everett, in her third-year as a 5th-grade teacher at Meadowlark and 27th in education. "I try to make my classroom a place I want to come to and, hopefully, the kids want to come to on a daily basis. This is where I live."
The only thing missing from NPSA's first featured "Crazy Cool Classroom" is the president of the Parrot Heads in Paradise Club himself, Mr. Jimmy Buffett, strumming out a soothing rendition of "Come Monday" in the corner of the room, next to Everett's classroom library.
"I just trust them and they are really good about checking books out, taking them home and getting them back to me," Everett said.
There is academic functionality in the way Everett set up the Sandals Resort of a classroom. The classroom flows, much like a wave, from the Reader's Reef to Birthday Beach to the small group stations at the front and back of the classroom where Everett gives personalized instruction in reading and math.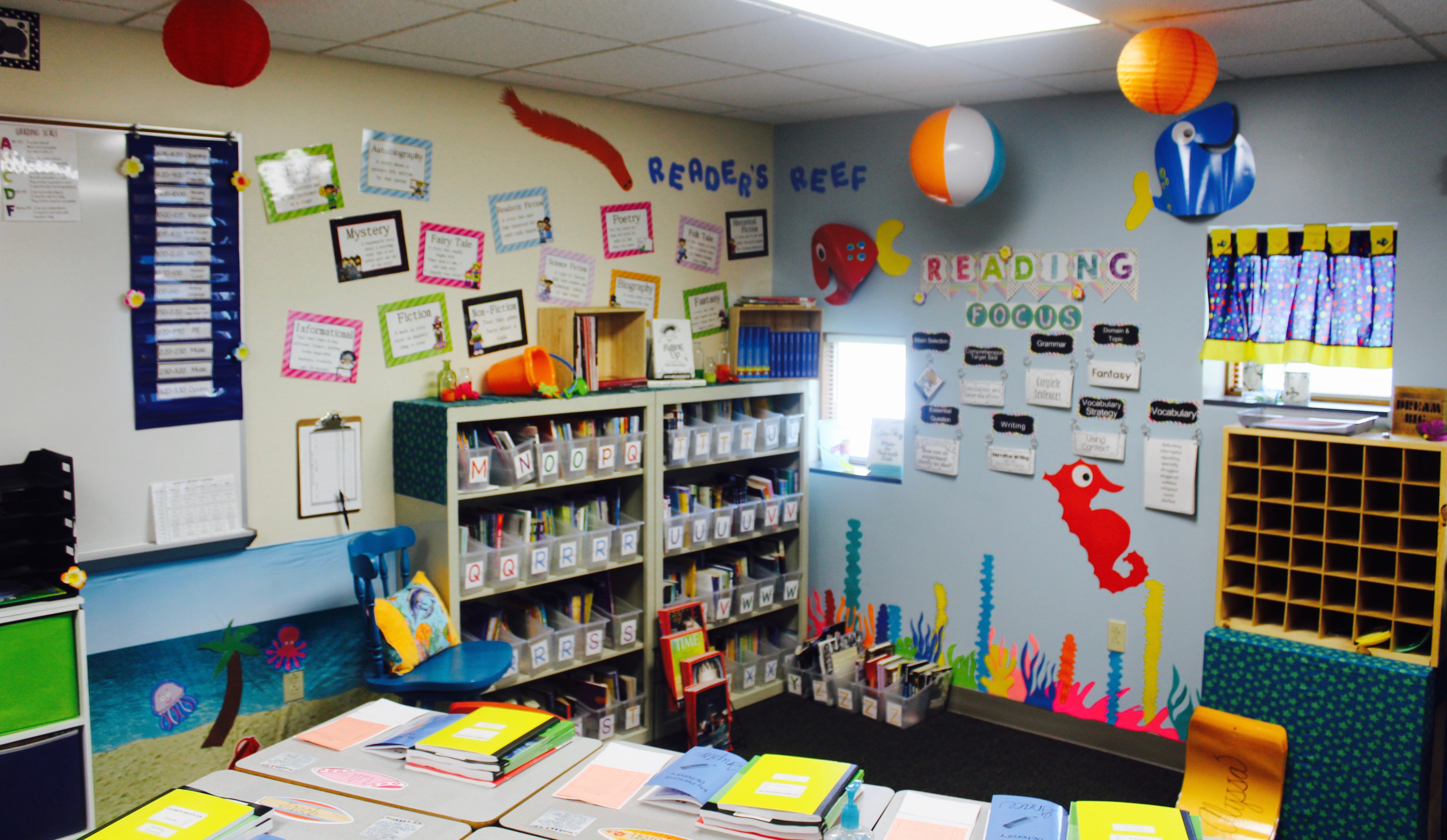 "We spend a lot of time in partner and small group settings, so that they can learn from each other," said Everett. "We do a lot of pair sharing and group type activities and conversations so those who are maybe struggling can learn from those that are catching on quickly."
Everett spends 15 minutes sitting in a green chair in the back of the room each day after lunch reading from a selected novel while the students make themselves comfortable. Leisure is important to Everett, just look around.
"I want them to feel comfortable in their learning environment," Everett said. "I want this to feel like home. I am flexible with how they work. If they want to take a bucket and go somewhere, even out in the hallway, I allow them to do that."
They are fifth-graders, after all, fully suited to handle a little extra responsibility. For Everett, the most important of her job is developing meaningful relationships with her students, the foundation for a productive school year.
"I would say, K through 5, the most important thing is building a relationship with the kids," Everett said. "If they feel loved and important and valued by you, then they will do anything and everything for you."
Relationships are important to Everett, who spent the first seven years of her career teaching kindergarten at Centura Public School before a nine-year stint at Kearney's Northeast Elementary teaching second-grade. Before coming to Meadowlark, Everett worked at ESU 10 as a staff developer. She also spent five years as an instructional coach with KPS before transitioning back to the classroom.
"In my building, my principal does a great job of connecting with our staff and making this a really positive and creative place to be," Everett said. "I come to school every day and I feel safe. I feel respected by my students. I feel they are super responsible and the parents are heavily involved and embedded in their child's education."
Everett, who encourages parental involvement and welcomes parent volunteers into the classroom "on any day of the week", holds an open house the night before school goes into session. Students introduce themselves and go on a mini scavenger hunt, leaving with a treat and an easy feeling about the first day of school.
Everett is clearly excited for the first day of her 27th school year, the next chapter in a career she knew she wanted to pave when she was in second-grade herself.
"My teacher was Mrs. (now Dr. Wanda) Stelk, and she was an amazing teacher," Everett said. "We still keep in touch."
Five to 10 years down the road, Everett hopes her students remember their fifth-grade year, and their fifth-grade teacher, fondly.
"I have kindergartners that I taught 20 years ago and I'm invited to their weddings, their college graduations, their baby announcements," she said. "With social media now, it is so much fun to stay in touch. It is so cool to have those connections and relationships beyond just one year."
School is just a couple of weeks from going into session. You could say the high tide is rolling in, and Everett can hardly wait to meet her new group of students.
Surely, down the road, they'll remember their crazy cool fifth-grade classroom.
"When you build those relationships with kids, it isn't just a one year commitment to their lives," she said. "It is a lifetime commitment."
Surfs up, and the Shack at Meadowlark Elementary is open for the season.