Crazy Cool Classroom: Jaclyn Nielsen's Language Arts Lounge
Crazy Cool Classroom: Jaclyn Nielsen's Language Arts Lounge
By Tyler Dahlgren
Poke your head inside Jaclyn Nielsen's eighth-grade language arts classroom, and survey what you see.
There's students lounging comfortably on bean bags and wobble chairs, actively engaging in curriculum discussion. Some attentively follow along while lightly bouncing up and down on a yoga ball. Others surround a neighboring stand-up desk and listen to Ms. Nielsen, who never seems to stand still.
Things don't go stale in this classroom, not since Nielsen implemented flex seating at the beginning of the 2017-18 school year. Come back in half an hour, and nothing will look the same.
"I was noticing, especially with my students with an individualized education plan (IEP) for ADHD and adverse behaviors, when they would act out it was because they weren't moving," Nielsen said. "They were so antsy and could barely sit in their seats."
So Nielsen started to conduct research. She plucked ideas from here and there and put together a dream classroom, then laid out her vision on Donors Choose, a nonprofit organization that allows users to donate to public school classroom projects.
A $2,000 endeavor, complete with the aforementioned bean bags, yoga balls, a stand-up desk, wobble chairs, a sit-down table with accompanying stools. A pipe dream, really.
"It got funded within a week and a half," Nielsen said gratefully.
Behind her seldom occupied desk, Young Living essential oils permeate lavender and rosemary aromas through the classroom. The two fragrances are supposed to help create a calm, welcoming atmosphere.
"It's cool to see students get into it," Nielsen said. "If it's a placebo, fine. They seem to like it."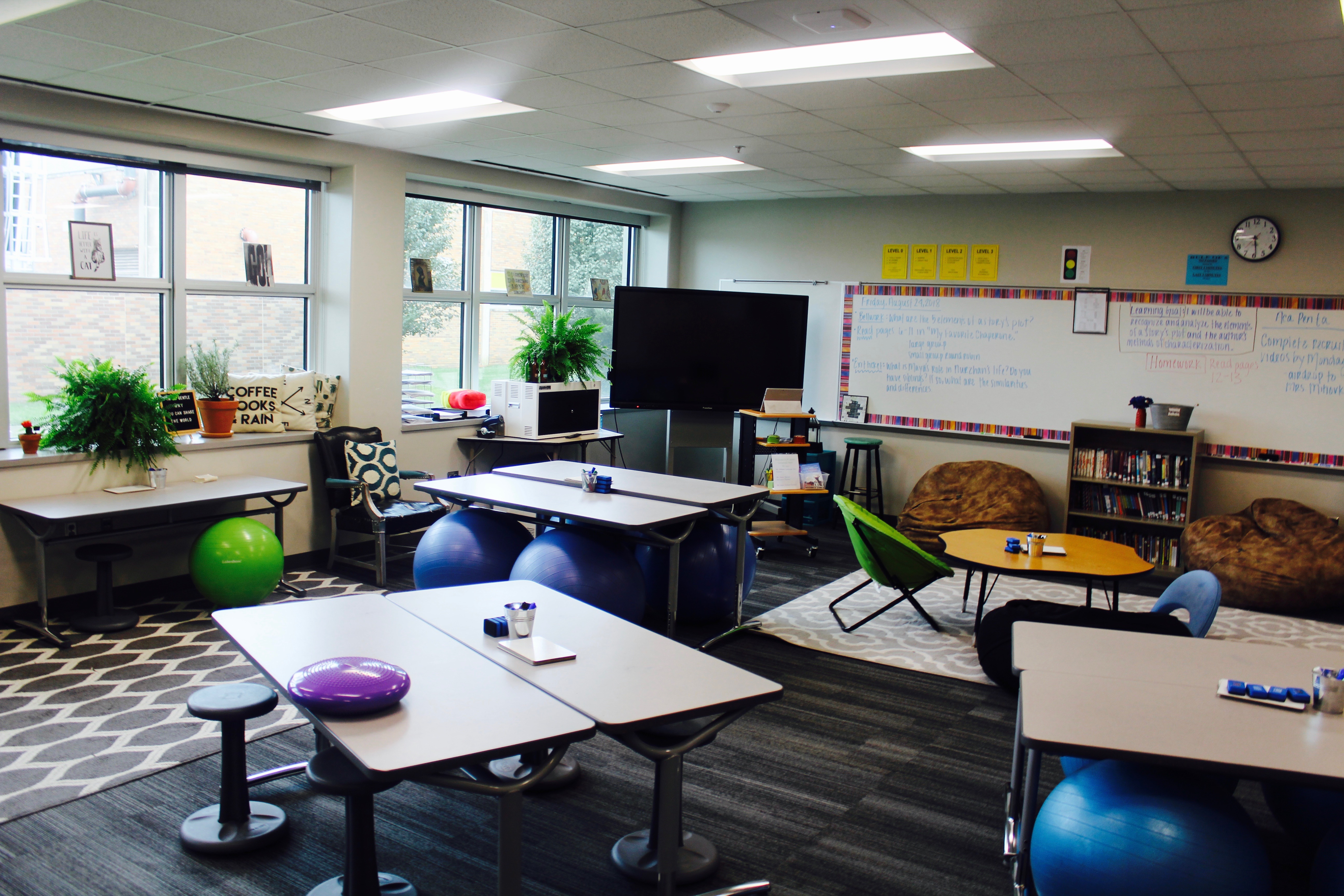 The lounge setting is complete with a huge Promethean interactive board.
"I can get online, and the kids are able to utilize it and interact with it," Nielsen said. "I can connect straight from my surface and walk around with proximity control. I'm near my students when they are learning."
She doesn't know if this type of flexible seating would be necessarily ideal for most teachers, but for Nielsen, the results have been wonderful. Some of her students move four times in a single class period, and that's fine by her.
The vibe is informal, but her students are extremely observant, engaged and ready to learn. That's what Nielsen had in mind.
"For some of my students, this is the place in their lives that is most comfortable," Nielsen said. "They are coming from all sorts of environments. Some of them are absolutely wonderful, and some of them don't provide a lot of structure. I want to give them structure while also having it be a comfortable and fun environment."
It's what drew Nielsen to Beveridge, an arts and culture magnet on 120th between Pacific and Center Streets.
"I love that the school is so diverse, bringing kids in from all over Omaha," Nielsen said. "That really excited me."
Growing up, Nielsen said her head was always buried in a book. While giving swim lessons as a lifeguard, she realized teaching came natural. It's what she's wanted to do ever since.
"I'm just one of those really lucky people who absolutely loves what they get to do each day," she said.
Ten years down the road, her students might not remember the lavender and rosemary vapors filling the air behind Ms. Nielsen's desk, but she hopes they remember the lessons the course's literature taught them.
"Like how to be open-minded and accepting of other people," she said. "And how to treat people well even when you're having a bad day."
They'll surely remember sprawling out on bean bag chairs and relaxing on yoga balls, and the teacher that encouraged such leisure.
"If they look back and remember something about me, I hope it was that I made them feel accepted and included," she said. "I hope I made them feel excited to learn."