Cozad begins building for the future the "Haymaker Way": "There's a terrific sense of ownership in this community, a drive to be the best we can possibly be"
Cozad begins building for the future the "Haymaker Way": "There's a terrific sense of ownership in this community, a drive to be the best we can possibly be"
Wednesday, December 21, 2022
By Tyler Dahlgren
Before he was the interim superintendent of Cozad Community Schools, James Ford was a part of a legion of basketball coaches who swear by an age-old adage: Look good, feel good, play good.
Ask any athlete. The mantra is tried and true, and it extends well beyond any field or court.
"Same thing goes for learning," said Ford. "If you're comfortable in the learning space, if it has new, updated lights and it's nice and warm and toasty during these cold winter months, then you're going to perform better than the student who has cold feet and can't see what's being written on the whiteboard."
And after a $26 million bond for a school renovation and additions project passed in overwhelming fashion, the staff, students, school board and entire Cozad community can't wait to put that age-old adage to the test.
"We have a new hashtag that our community and our student body and staff voted on, the #HaymakerWay, and we're going to do things the Haymaker way," said Ford, who's been in the district for six years and was born in Cozad. "We're going to be accountable, we're going to be respectful, we're going to be responsible and we're going to do the right thing."
This project, which began at the other end of a very long road, encapsulates the "Haymaker Way", with its roots planted in collaboration and its goals rather blunt and simple.
"The people in our community, they want what is best for our kids," said Ford, who, along with the staff, was floored by the 75-percent of voters who said yes to the bond in March. "They want our kids to have a top-notch education. They want our kids to be the best that they possibly can be and to have top-notch facilities that will foster their growth and give them the best environment for learning as possible."
A groundbreaking ceremony held on Nov. 15 was attended by more than 70 community members, in addition to district staff, school board members, and the (after-school and summer program) AfterZone students, kicking off the beginning of a new era in Cozad. The district will consolidate from five buildings to three, as the district office will move into the high school and the Cozad Early Education Center will be housed in new quarters at the elementary.
Those moves will lead to greater cohesion across the district, said Ford.
"With the administration, the resources, and our manpower all being centrally located, it's going to allow us to be more efficient across the board," Ford continued. "Naturally, we're going to have more cohesion and better communication being right next to each other rather than scattered across town."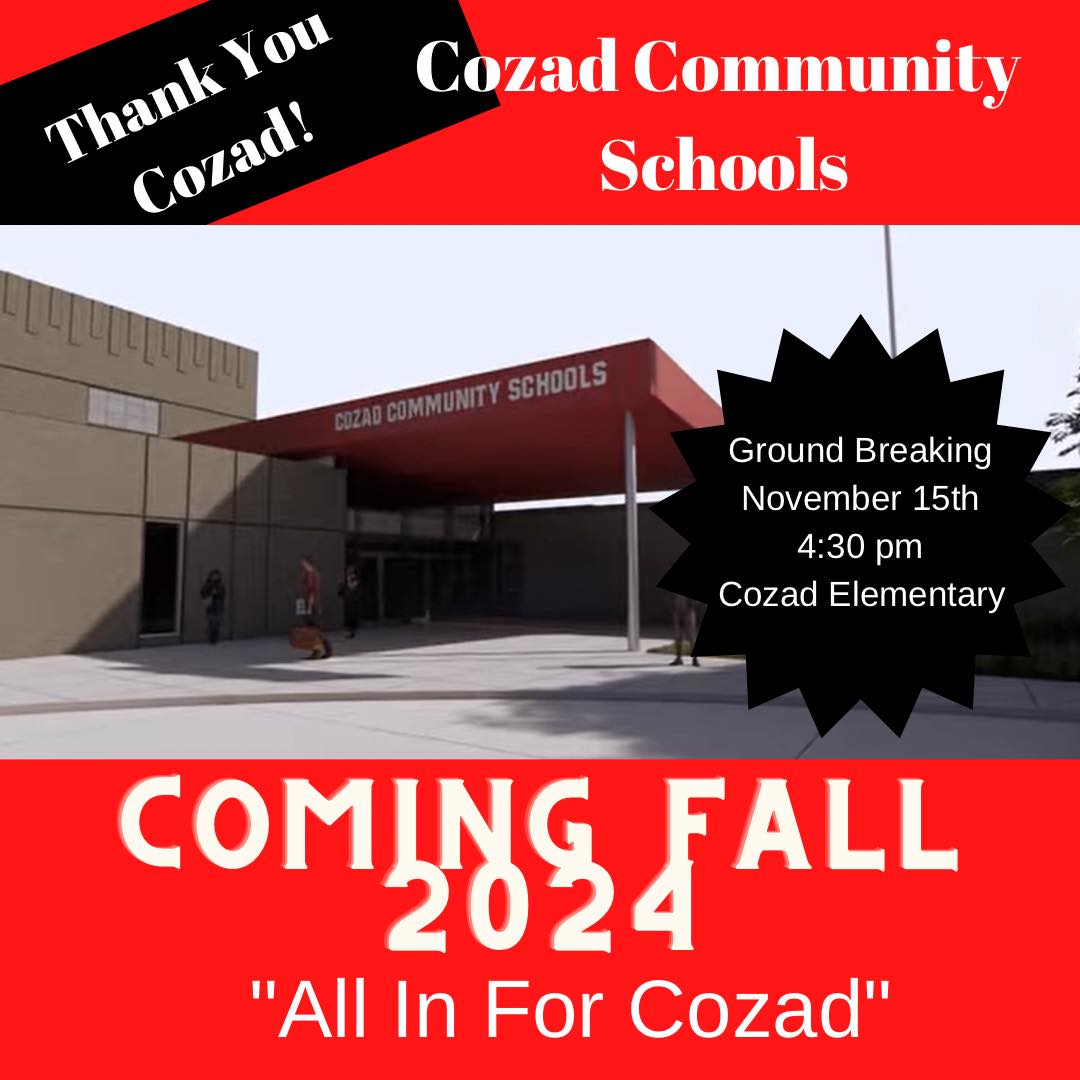 The project will also include a brand-new competition gymnasium on the east end of the high school, which will do wonders when the Haymakers host tournaments and events, and secure entrances at both the elementary and high school.
"A large faction of our voting base made that message loud and clear, that building security and safety was one of the top priorities they were wanting to see," said Ford.
Like many schools built in its era, Cozad High's main office is centrally located, but that will soon change. Classroom spaces will take over that area, and the office will move to new digs near the front of the building.
"That will be a great thing and allow us to serve our community better," said Ford. "When people come in, they won't be confused about where they need to go. They'll be greeted by a friendly face who's ready to help. The new secure entrances at all three sites will give parents the peace of mind that their kids, when they're in our school, are safe."
The journey started with a complete district evaluation, which was done by Wilkins Architecture Design Planning, who anticipated that 75-percent of the district's roofs would be failing within five years. That, coupled with the security concerns and a 1-to-2 percent growth rate that had already pushed the elementary to full-capacity, was enough to motivate Cozad's school board to get to work.
"One of the best things that we did was deliver correct and accurate information to our people," said Ford. "The individuals in our community are very, very smart. When they received the correct information, they voted accordingly. Our community loves to support our school, and our school loves to support our community. We don't have events at our buildings where we don't have a full house."
The district's social media efforts were tremendous, and collaborative. An "All in for Cozad" page was set up on Facebook, streamlining renderings and timelines to stakeholders. Wilkins even produced a fly-through video of what the project would look like when finished. The old facilities, Ford added, were in tip-top shape. They were tremendous, but the prospects of something new and even better undeniably lit a fire under the people pushing the project.
"Our community has been nothing but supportive and tremendous throughout this process, and we have very active members in that community who have taken the lead in getting the word out," said Ford. "I would be remiss if I didn't mention the people who made this happen, though we'd be sitting here today if I mentioned them all. Dustin Favinger, Heidi Bazata and Dreu Young, they're three in particular who worked non-stop to get this done. They talked to the people. They knocked on the doors. They took money out of their own pockets to print the flyers. And once people had the information, they voted accordingly and intelligently."
The figure is staggering. Ford had an inkling the bond would pass, but 75-percent?! It gives him chills just thinking about the moment he heard the results from the county office. His staff, too.
"There was a lot of invigoration, a lot of excitement," said Ford. "But then there was a little bit of a humbling feeling, a sense of 'Now we've got to get to work,'"
The construction process, while exciting, will require some flexibility. Ford has stressed the importance of embracing what he calls "productive discomfort." In the long run, that flexibility will pay off in extraordinary ways.
"Our staff has done a great job of that so far," he continued. "I'm humbled that I get to work with such an awesome staff. They've done a fantastic job of rolling with the punches and creating the best learning environment we can right now."
Speaking of staff, the new facilities have already paid dividends in attracting teaching candidates. Throughout the fall, CCS reps have attended careers fairs and displayed renderings of their future facilities at their booths. They've already heard from several prospective teachers, an encouraging sign in the midst of a nation-wide teacher shortage.
"It's going to be a huge net gain for our community," Ford said. "We're going to be able to go get the best teaching candidates out there."
The anticipation is building. Students stood near windows and watched as the old playground set was taken down and the flooring was leveled. Renovations at the high school are just about set to get under way. The buzz is palpable.
Old history making way for new.
How high will they fly? In Cozad, they're up for the challenge. That's the Haymaker Way.
"There's a drive to be better, and that comes from everybody here in Cozad."