Connecting through a lost art, Black Elk Elementary reunites WW2 vet with war medals
Connecting through a lost art, Black Elk Elementary reunites WW2 vet with war medals
Tuesday, October 30, 2018
By Tyler Dahlgren
You could feel a buzz in the hallways of Black Elk Elementary yesterday morning.
Positive energy permeated throughout the Millard school as third and fourth-grade students, Black Elk staff and family filed into a patriotically-decorated gymnasium and waited for their pen pal, 91-year-old Richard Slovek, to arrive.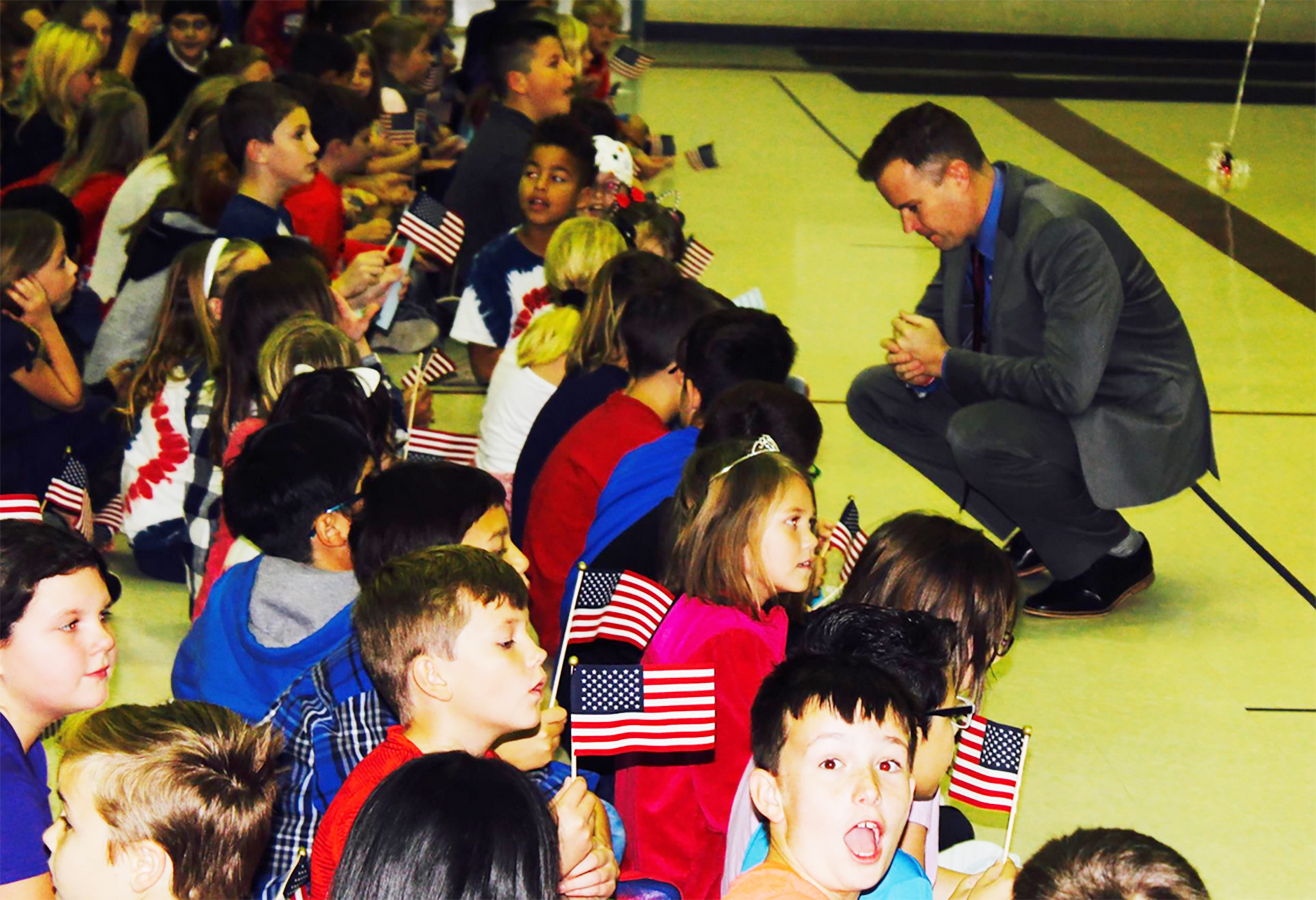 For three years, third-graders at Black Elk have connected with Slovek through a lost art. Written letters, about two a week, from students in Gina Hill's third-grade class are sent to her uncle, who answers each and every one.
The kids enjoy learning about his long life. About what it was like serving in World War II and growing up in the 1930s. It's a rare glimpse into yesteryear, a unique opportunity for a nine-year-old in 2018.
"The students have learned firsthand about history you can't find in a textbook," said Theresa Haack, Richard's daughter.
And for as much as the students love picking their friend's brain with all kinds of questions, some of which could only be concocted by an elementary student, Richard is just as enthusiastic when the letters come in.
"He has learned about what is going on in schools today," said Haack, whose husband, Dr. Terry Haack (superintendent of Bennington Public Schools), gave an introduction for his father-in-law Monday morning. "It has been a win-win."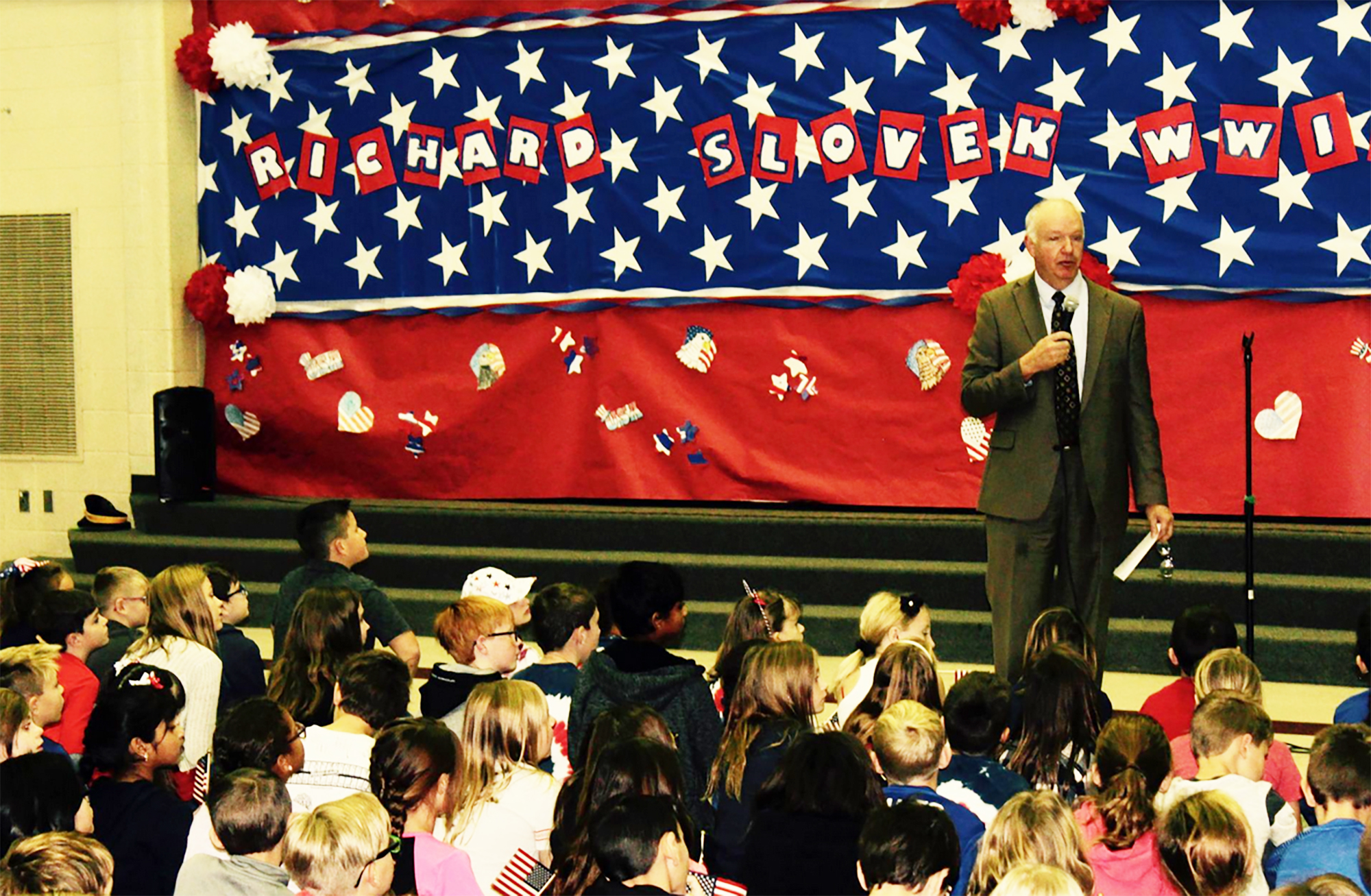 What has blossomed in three short years is a timeless friendship, one that was on heartwarming display throughout the hour-long ceremony Monday morning.
While hand-written letters have paved the way for this touching bond, they also made another reconnection possible.
In a letter written to Slovek last year, a student asked if he had received any medals during the war. He had, it turns out. Two, in fact, both the Victory Medal and the Honorable Service Medal, but he hadn't seen them for 70 years.
"He gave the medals to someone he trusted to mail them to him, but never received them," Haack explained.
So she looked into it, and was able to get both of father's medals replaced, which sparked Monday's ceremony. They knew the perfect place to hold it.
As students sat cross-legged and patient, waiting with a quiet excitement for 9:30 a.m., Slovek was wheeled into the front entrance. He thought this was a classroom visit, but when he made a right turn and entered the packed gymnasium, the veteran's eyes lit up as hundreds of kids instantly smiled.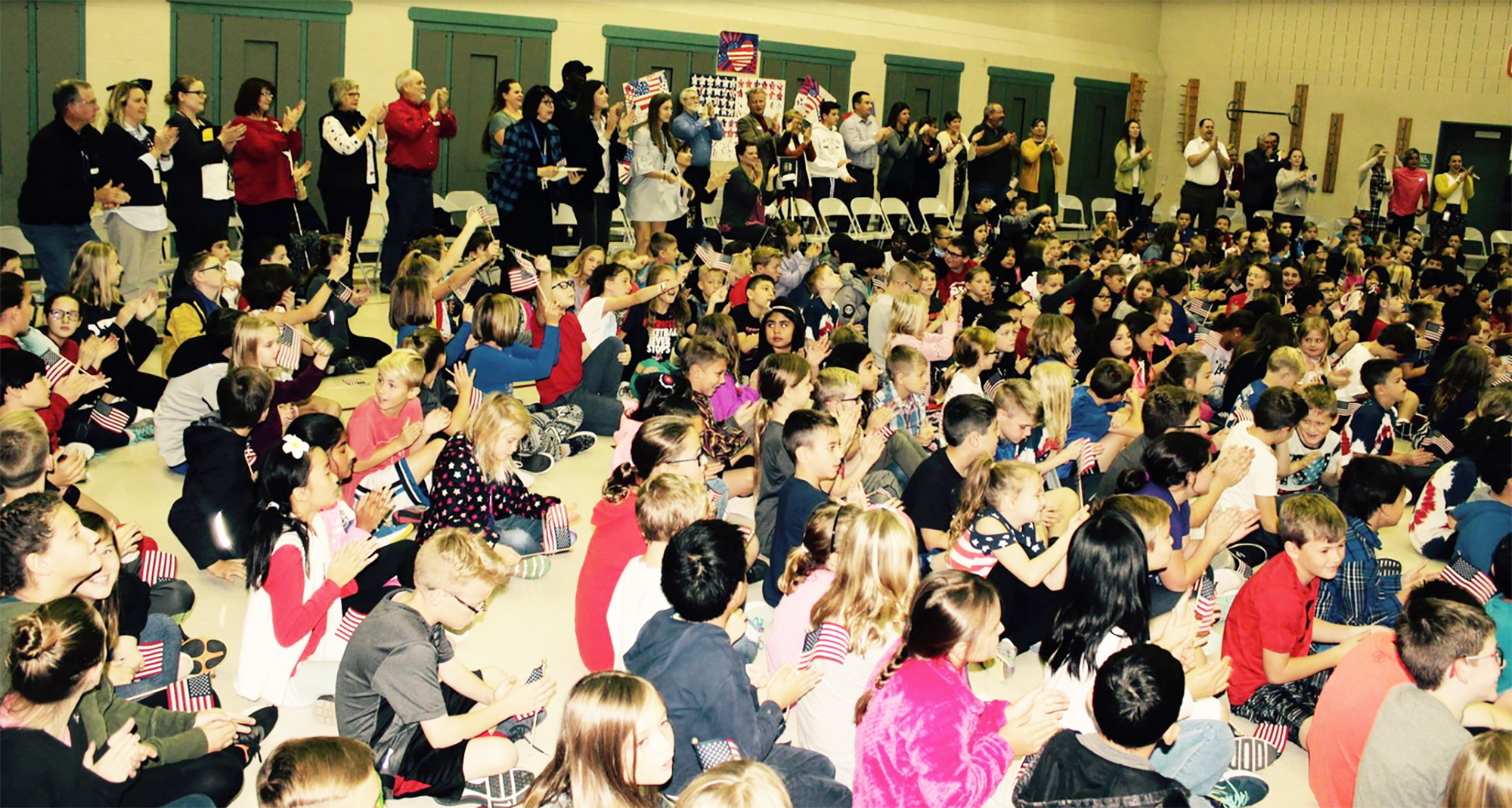 Millard South High School's Junior ROTC presented the colors before Millard School Board member Stacy Jolley sang the National Anthem.
Then, fourth-grader Charlie Fish, a student Slovek formed a special connection with over their shared love of fishing, pinned the once-lost ribbon and medal on his friend.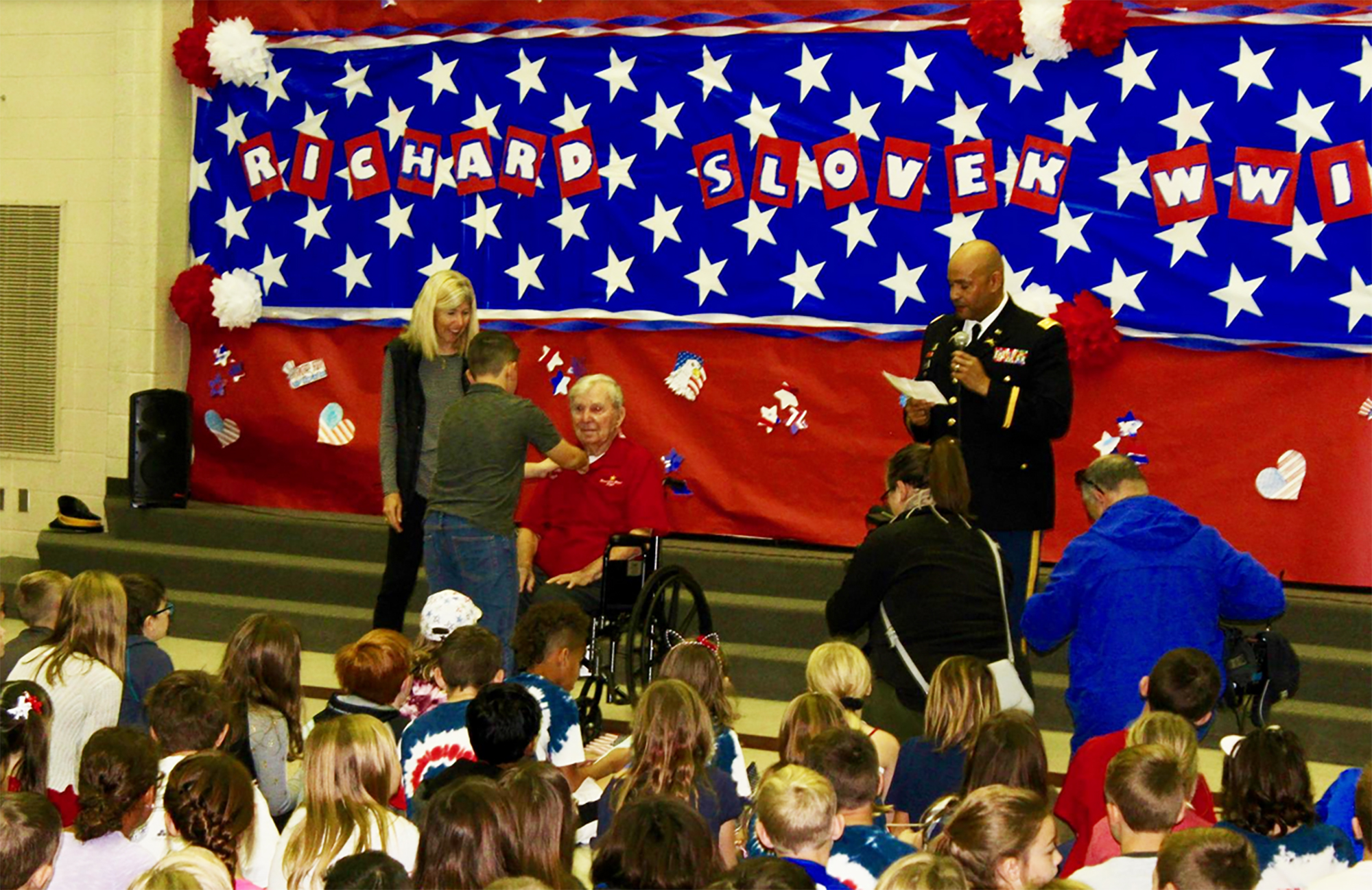 The Quilt of Valor organization presented a quilt to Slovek before 10 students shared 10 special facts about Richard's life, one by one.
"Richard's favorite color is blue, like his eyes."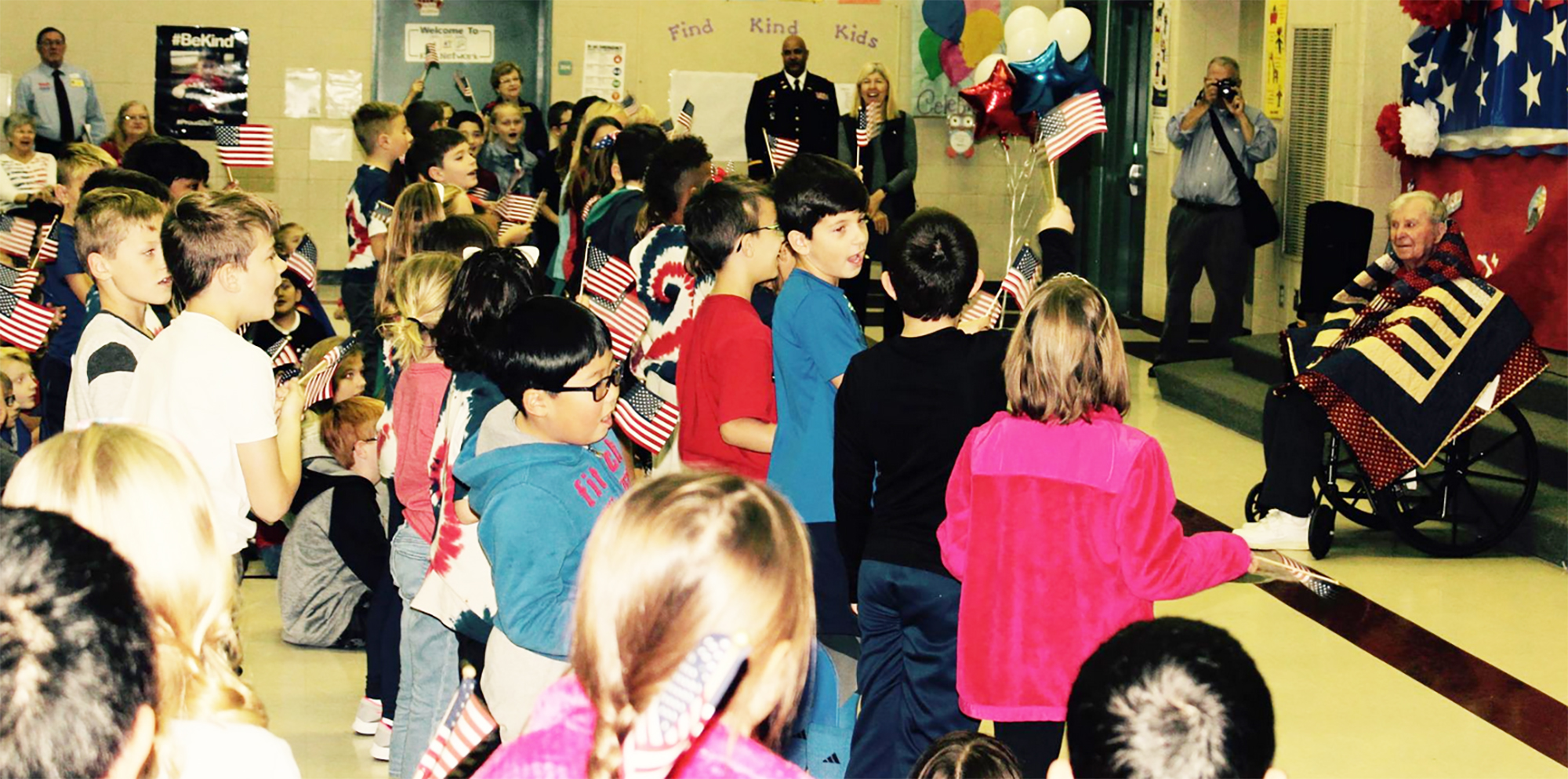 The ceremony closed with a lively rendition of "You're a Grand Old Flag" from the third-graders, as media in attendance made their way to Slovek.
Just to his hero's left stood Fish, a fourth-grader who had just calmly pinned a medal on a WW2 hero. In 2018, that's something you don't hear of every day.
"Charlie, you will have to come see me now," Slovek said. "I've got a tackle box, and you can go in it and pick out what you want."
Fish smiles.
Something tells me he won't pass up on that offer.