Classrooms of Tomorrow: Grand Island's three Schools for Rigor first of their kind in Nebraska
Classrooms of Tomorrow: Grand Island's three Schools for Rigor first of their kind in Nebraska
Wednesday, February 14, 2018
By Tyler Dahlgren
The foresight Liz Boyle uses when talking about her 21st Century Literacy class is an intriguing, albeit unfamiliar, element of a conversation I've shared with teachers over the last year and a half.
Nebraska's public schools, as I've learned, don't generally back away from shouldering high self-expectations. The state is the land of educational innovation.
It's part of what has made this storytelling journey so fun.
And, at times, difficult. I'm not a teacher. I haven't paved a career in education. I'm just a writer (that may have received a few too many detentions back in the day) trying to shed light on the amazing things happening within the walls of our state's schools.
So, when the first teacher I talked with at Grand Island's Walnut Middle School offered up the following insight into what it's like to teach in one of Nebraska's first three Demonstration Schools for Rigor, I knew I had to lead with it and just get out of the way.
"We are preparing kids to live and work in this new economy, in this new world, and yet schools tend to take more of an evolutionary path," Boyle said. "The changes that we make are good changes, but they happen really slowly over time. We haven't transformed like the rest of the world has. Right now, and this has been true for a while, we are preparing kids for jobs that don't exist yet."
At Walnut Middle School, and at elementary schools Starr and Jefferson, they're saying "Goodbye" to classrooms of yesterday and "Hello" to the future.
This is the unfolding story of Grand Island's Schools for Rigor, and these are the classrooms of tomorrow.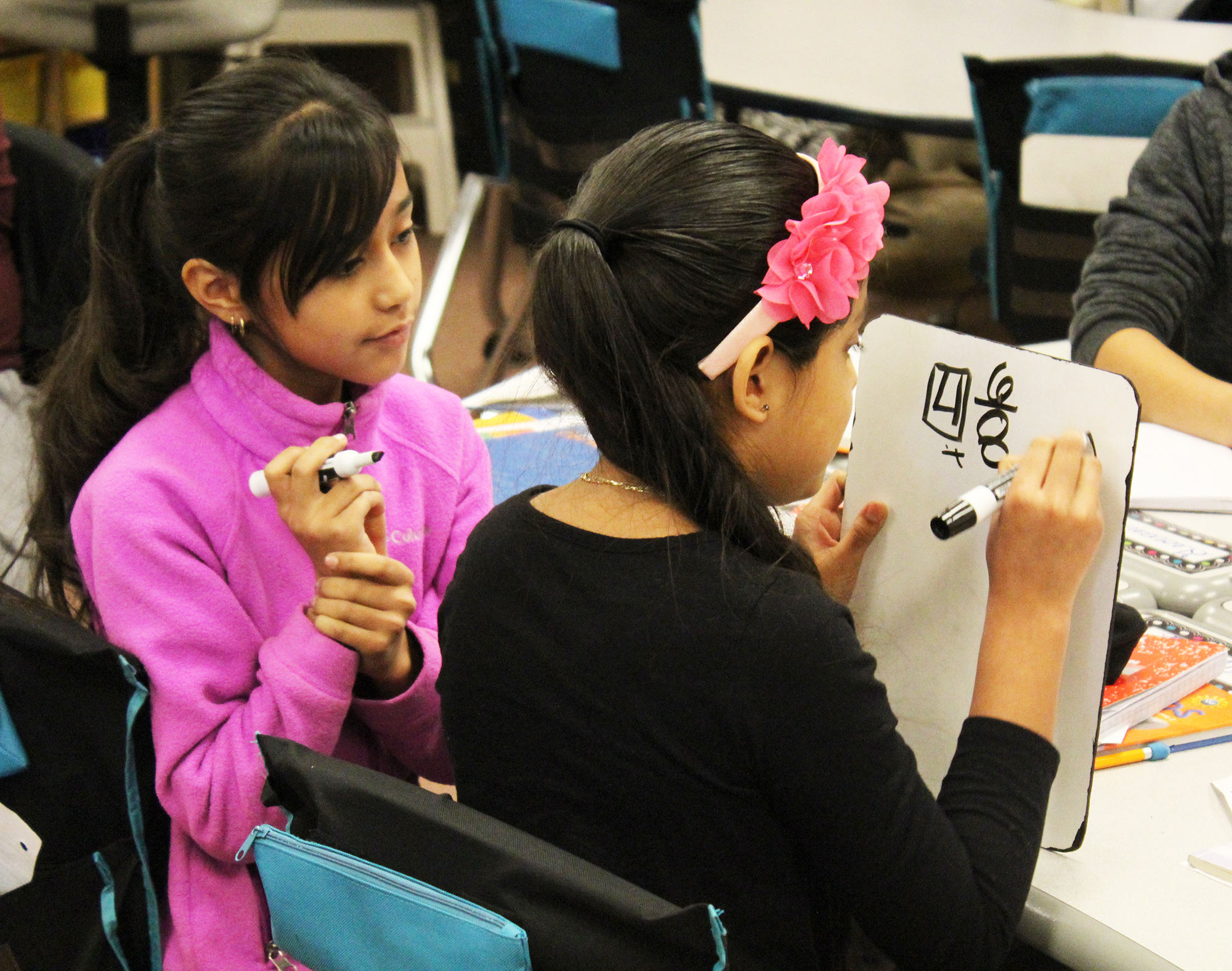 Schools for Rigor
What exactly is a "School for Rigor", you might ask.
That's a good place to start.
A rather new concept from Florida-based Learning Sciences International and molded from the popular Marzano methods of instruction, the School for Rigor model has six steps.
1. Designing Implementation
2. Needs Analysis
3. Tiered Supports
4. Metrics
5. Expert Resources
6. Proven Results
Students are empowered in the classroom, accountable to one another and for one another. Teachers, likewise, are empowered to be instructional leaders. Academic teams, group learning and discovery take the place of seclusion, PowerPoint slides and memorization.
"With this approach, I have seen kids take care of each other more, and I have seen kids become more concerned about each other," Boyle said. "If they see one of their team members struggling or falling behind, they are much more willing to lean in and help. The same is true for a kid that notices they are being outpaced. They are far more likely to ask for help from their peers. There is less of an embarrassment."
It's not true for every single student, Boyle explained, but it is true for the majority, a sign of the shift in climate teachers at Walnut have seen in their classrooms.
The partnership between Grand Island Public Schools and Learning Sciences International, which facilitated an on-site planning day before the school year, got off without a hitch.
To each, the other fit like a glove.
"It was two-fold," said Starr Elementary Principal John Hauser. "Not only were we interested in the process, but we had to be a good fit for the model, and we met what they were looking for."
Dr. Betsy Carter, National Practice Leader for LSI, could tell right away that GIPS shared a "vision for instruction that truly sets the stage for college and career readiness."
"It was evident that their central office and school leaders had a growth mindset and were open to second-order change," Carter said of her initial impressions three years ago. "They knew a new vision was necessary, so we joined with them in what turned out to be a very productive, collaborative journey."
One of the four pillars of Grand Island's strategic plan, along with personalizing, designing and partnering, is, fittingly, empowering. The district is committed to empowering its educators to be instructional leaders, and to delivering a rigorous and robust curriculum to its students.
In Grand Island's staff, Carter saw an eagerness to learn.
"They were clearly hungry to learn and willing to make the necessary changes to move the needle," Carter said. "From the moment we arrived, we were able to sit down and truly work collaboratively, openly and honestly to assess their current systems, what needed to change, and how to drive toward the future."
For the teachers in transition at Starr and Jefferson Elementary and Walnut Middle Schools in Grand Island, the ones you are about to meet, the journey is just beginning.

Starr Elementary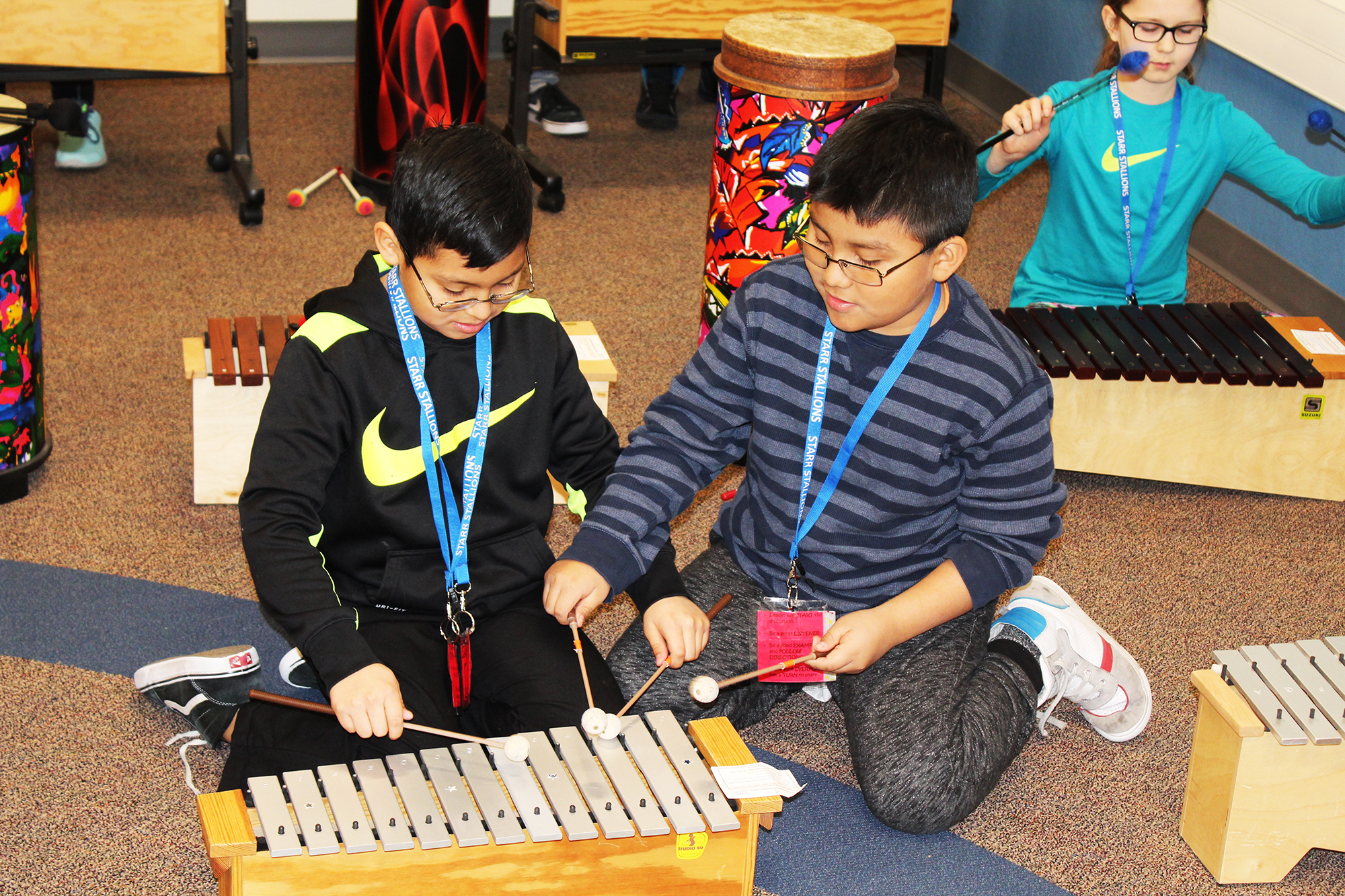 As an elementary music teacher, Alicia Glaser had grown accustomed to playing the role of conductor, directing from the front of the class.
She taught. Her students learned.
"It took me awhile to step back and learn the difference between giving them the skills of the lesson then letting them guide themselves using the success criteria, and monitoring themselves using it and being okay if they didn't get it right away," Glaser, who is in her second year at Starr Elementary after seven years of teaching in Las Vegas, said. "Now I see that I am able to give them anything, and they are able to go and create with it. They are harder on each other than I am on them."
It wasn't the first time we'd heard the term "success criteria" that morning, and it wouldn't be the last. Still, no matter how many times you hear it, a third-grader speaking about meeting his own group-proposed success criteria, is impressive, and peculiar. Impressively peculiar.
And it makes you wonder, just how capable are these elementary students?
"Giving them the tools and the knowledge is one thing, but taking it to the next step and being able to create with that knowledge, that's what we're doing," Glaser said. "The kids are able to pick up any instrument, and they might not know how to play it, but they should be able to read the rhythms and they should be able to find a fingering chart on a guitar because of the knowledge they now have. It's so exciting."
Capable enough to put on their own Christmas program?
With a little bit of direction, absolutely.
Capable enough to choreograph a welcome back to school dance sure to get even the most reluctant of toes tapping?
With their teachers dancing alongside them, you bet.
When a group of GIPS administrators and some new faces walked in to observe Glaser's classroom on a Tuesday morning, her third-graders didn't miss a beat. Having administration in and out of the classroom is becoming the norm. Part of the rigor.
"We are all growing together and learning together," Glaser said. "We have high expectations for this new process, and we have plenty of resources that are there for us whenever we need them."
Over at Walnut Middle School, Boyle has had administrators in her classroom more this year than in 15 previous years of teaching. Things are trending in the same direction at Starr. The doors are always open.
Glaser's principal finds transparency to be a critical part of raising academic rigor.
"We are in the classrooms collecting data, updating the data board, sharing those results with teachers," Hauser said. "We are fortunate to have two instructional coaches too."
Starr is in the middle of what Hauser calls a "unique situation." Not only did the school move into a brand new building, but its enrollment skyrocketed from 280 students to over 500 while nearby Stolley Park Elementary finishes construction.
Each school had an established, strong culture, which has helped make the transition a smooth one, not always a given in similar situations, especially in the midst of instructional overhaul.
"We have some of the best teachers you will find in the state of Nebraska located in this building," Hauser said. "Moving towards a common goal helps blend a staff together. Then you have the parents, who want what is best for their kids. That common goal really helped blend the two schools together."
It's only February. The revelations will continue to come. The teachers at Starr will continue to evolve. And expectations will continue to rise.
"Our students want high expectations, and they want to be challenged," Glaser said. "Some of the families these kids come from, they are very sedentary in their homes. It's like 'Here, sit in front of this, watch it, and learn.'"
Those days are gone, left behind with the way things used to be.
"Now, it's 'Show me, and I am going to go do it,'" Glaser said. "They are participating in their own learning, which is helping them retain."
The Christmas program, by the way, was a smashing success.
And a sign of things to come.
Jefferson Elementary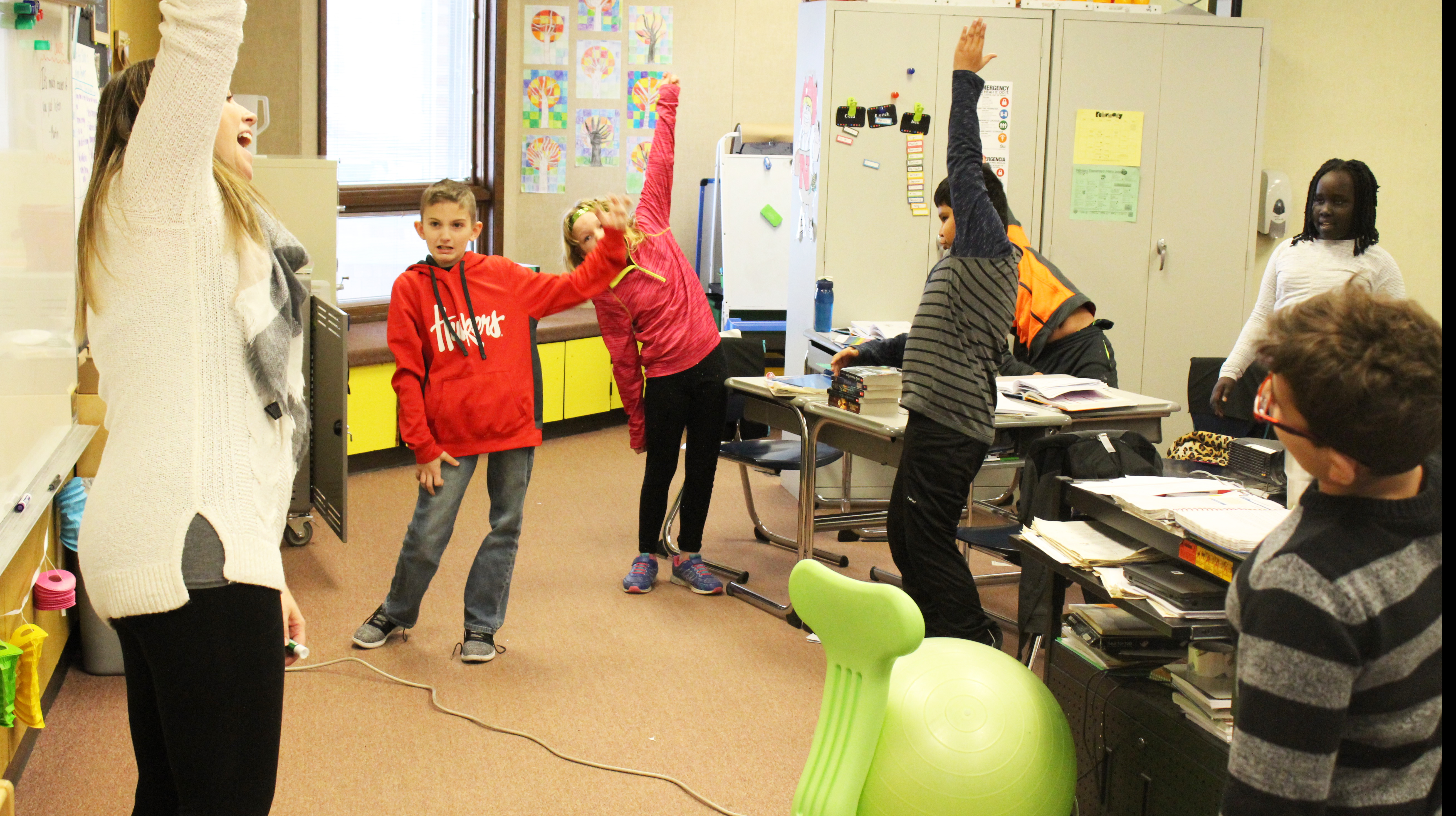 Jefferson Elementary isn't new, like Starr. From its centrally-located library, you can hear, at times, the chattering and goings-on of as many as seven classrooms.
It is a charming place. For me, Jefferson triggered nostalgia. At least for a moment, it took me back in time to my elementary school years. To cartons of milk and Goosebumps books.
Then we walked in on April Franzen's kindergarteners discussing sentence structure, grammatical rules and linguistic semantics (okay, that one is an exaggeration, but barely), and I snapped out of my trip down memory lane.
Again, these aren't your grandparents' kindergarten classes. They're not even my kindergarten classes.
"The kids are teaching each other," said Franzen, who, since 1999, has taught K-5 ELL, kindergarten and 1st-grade in GIPS. "I give them a concept, and a basket of activities, and I kind of just sit back and monitor and step in when I need to. They are partner-monitoring, and asking each other questions. Socially, there has been a growth and a lot of respect among the kids has developed."
These are five-and six-year-old kids engaging in a way Franzen has never seen before.
"I have seen them thinking deeper, and making connections across curriculum, which is amazing," Franzen said. "They aren't afraid to be wrong."
Through LSI's C4i technology training, which Jefferson Instructional Coach Sarah Sell references as "one of everybody's favorite professional development days", and other Schools for Rigor principles, Franzen has found ways to utilize skills she may not have been able to in years past.
"It lets us use our talents in finding ways to deliver the lesson," she said. "Once we figure it out, and find out what works, that's when things take off. It's been really fun."
On this day, Franzen's kindergarten class is really rolling. It's really a site to see.
"Maybe you guys could help proofread the story," I suggested.
The kindergartners laughed and waved good-bye.
I was only half-joking.
Walnut Middle School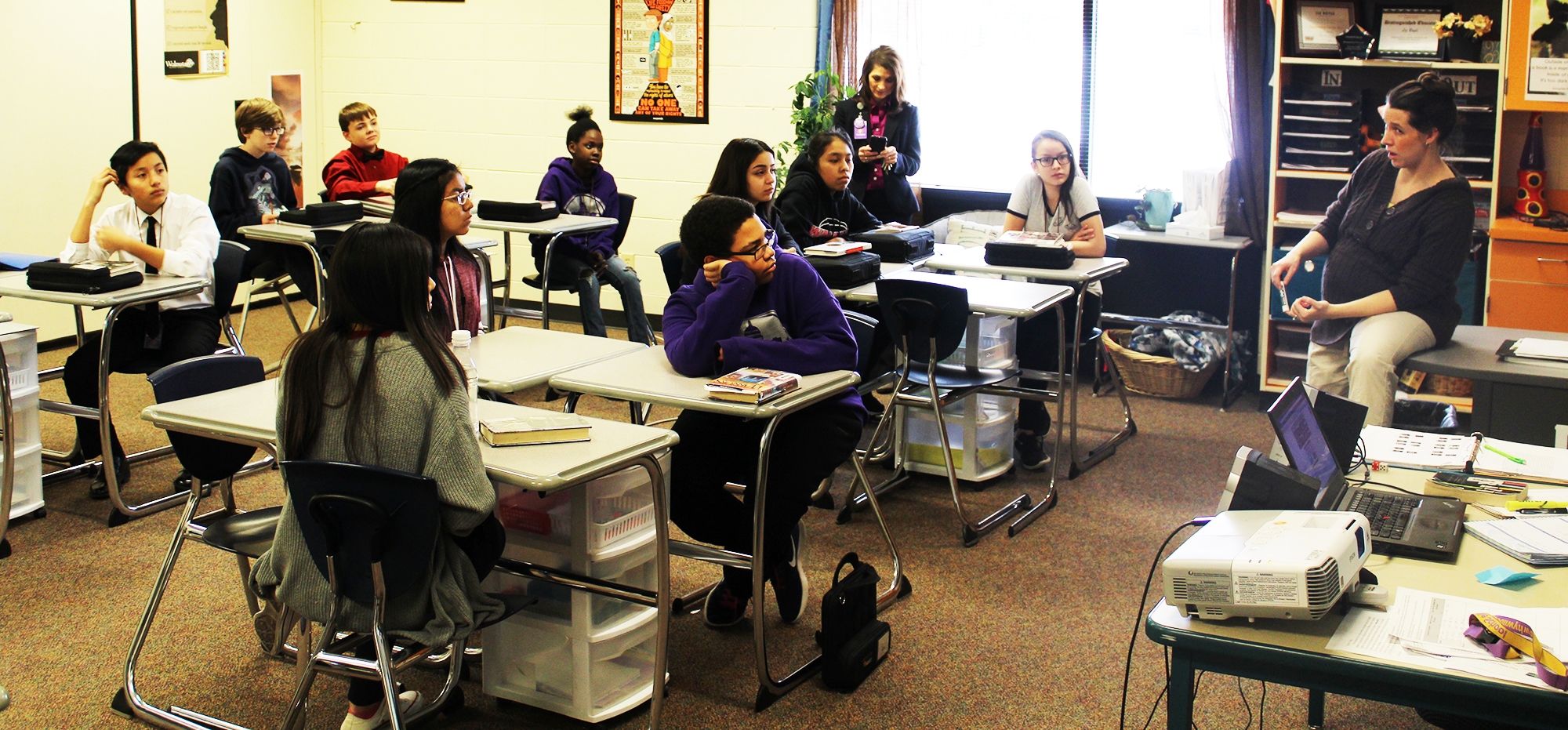 So now we're right back where we started.
Eventually, LSI's Schools for Rigor criteria will be incorporated across the entire district, but for now, Walnut Middle School is Grand Island's lone barometer for how the implementation process looks with older students.
"We felt like having the three schools serve as learning laboratories within our district would allow us to use the professional learning that our teachers are getting when it comes time to expand the training to all of our schools," said Dr. Toni Palmer, Grand Island's Chief Leadership and Development Officer.
Glaser was thrown off during the early stages of rigor training by how little she was in front of her class. Over time, she saw her role as an educator "refine, and emerge." Franzen, too, is open about being nervous at first.
"When it was first introduced to us, there was some initial reluctance on the part of the staff," said Boyle, in her 8th-year of teaching at Walnut. "There was that feeling of 'Why us? What did we do wrong?' We felt like we were doing good work."
It's not that they weren't. With the world's constant evolution, Grand Island administration decided it was time for its schools to do a little evolving of their own.
"A lot of the early discussions were helping the staff see that schools in 2018 need to do something different than schools did 20 years ago," said Walnut Assistant Principal Selena Wardyn. "We are not preparing our students for the same world we were once preparing them for. Instruction needs to evolve. Opportunities for students to collaborate and communicate and problem solve and take ownership are important, because that's the world, and the job market, they are going to enter in to."
Palmer has heard similar sentiments from teachers at all three buildings. It's become less about what they're teaching and more about what they want the students to know and to be able to do at the end of coursework.
"They've flipped from thinking about evaluation to thinking about growth," Carter said.
After this happens, there's no going back.
"They totally get it," Palmer said. "They will tell you they never plan to go back to their traditional style of teaching."
Like Hauser, Palmer and Wardyn are visible and involved, visiting classrooms 40-45 times a week, providing support and feedback.
"The process has really been an organic one where we just started with those teachers that were early adopters and they helped us come up with a vision for instruction," Wardyn said.
She's thrilled about the progress her school has made, but is quick to point out that nothing happened over night.
"I think that is how you define the success of this program," Wardyn said. "The teachers believe in it. It's not being told to them. It's something they are owning and they want to believe in."
On this Tuesday morning, Wardyn is excited to see her students being granted the opportunities they deserve.
"We have kids that have to overcome a lot of things in their lives, and they are engaged and they want to be in the classroom talking to their peers and exploring the content," Wardyn said. "That's a pretty fun educational experience."
*LSI and GIPS will be partnering to host a School Transformation Summit on Tuesday, March 27. This is a free, one-day event that includes a school visit, complete with classroom walkthroughs and a panel discussion on the school transformation experience. Districts interested in attending, or learning more about LSI's School for Rigor partnerships may contact Lee Manly, Senior Director of District Partnerships, at LManly@learningsciences.com or 918-995-1112.
They Said It
"I believe in our system. I believe we have a chance to change lives. We want to be here to make a difference. This is for all kids." –Dr. Toni Palmer
"The staff understands the needs of all students. Every student has a different need and they are willing to step up and meet the students' needs no matter what. There is something special about Nebraska's public schools in that every kid does come with something different. The staff understands that. We're here for the kids." –Jefferson Elementary Assistant Principal Selena Wardyn
"It's like a family. It really is. I'm from Grand Island originally, and being at a different place, it was very separated. You're at your building and you do your own thing. Here, it's everybody being involved with everybody. There is just so much pride. We are cheering one another on. We want everybody to succeed and to do their best. Nebraska's the good life." -Jefferson Kindergarten Teacher April Franzen
"We take every student. It's our priority to help every student. We are the advocates for every student and we will help them grow. That's unique to Nebraska because of the way our public school system is set up, and it is truly one of the reasons I really enjoy what I do…it's taking kids where they're at." –Starr Elementary Principal John Hauser