Class of 2020 Senior Spotlight: Creek Valley's Catie Koenen
Class of 2020 Senior Spotlight: Creek Valley's Catie Koenen
By Tyler Dahlgren
Fifteen minutes on dirt roads.
Through the countryside and Nebraska's Panhandle, into a town called Chappell. Sometimes, Catie Koenen's commute to Creek Valley Schools, where she's been a student since kindergarten, takes a little bit longer.
Twenty minutes on some days. Twenty-five on others. But the drive has always been worth it, the destination well worth the distance.
"I've always felt at home here," said Koenen. "Even though I'm not a kid who lives in the district necessarily, Creek Valley has always been a welcoming and friendly place."
It's Friday, March 27th, and, like every other school district in Nebraska, Creek Valley's doors are closed, its hallways empty and its lockers quiet and still. In an attempt to flatten the COVID-19 curve, the entire nation has been put on pause.
It's the right thing to do, but what Koenen wouldn't give to make that morning drive one more time.
"I was really shocked," said the senior. "I knew the disease was running across the country, but in the back of my mind, I was like 'Chappell, Nebraska, no way we're closing, we're fine.'"
CVS Superintendent Patrick Ningen called Koenen a leader for the Class of 2020. He said she assumed that role as an elementary student, and leads in a positive way. Compassionate, hard-working and full of life. Other students look up to Koenen, an uber-active student who, someday, wants to be a doctor.
"I really like to stay busy, and missing out on an activity is not something I really like to do, I guess," Koenen laughs. "I love all of the activities and the teachers that are in charge make it really fun. And, obviously, colleges look at that kind of stuff."
Volleyball, basketball, track and dance. National Honor Society, Future Farmers of America, Interact Club and 4-H. Koenen does it all. It's like that at small school districts. Each student is a part of the district's heartbeat, which makes these current circumstances even more difficult.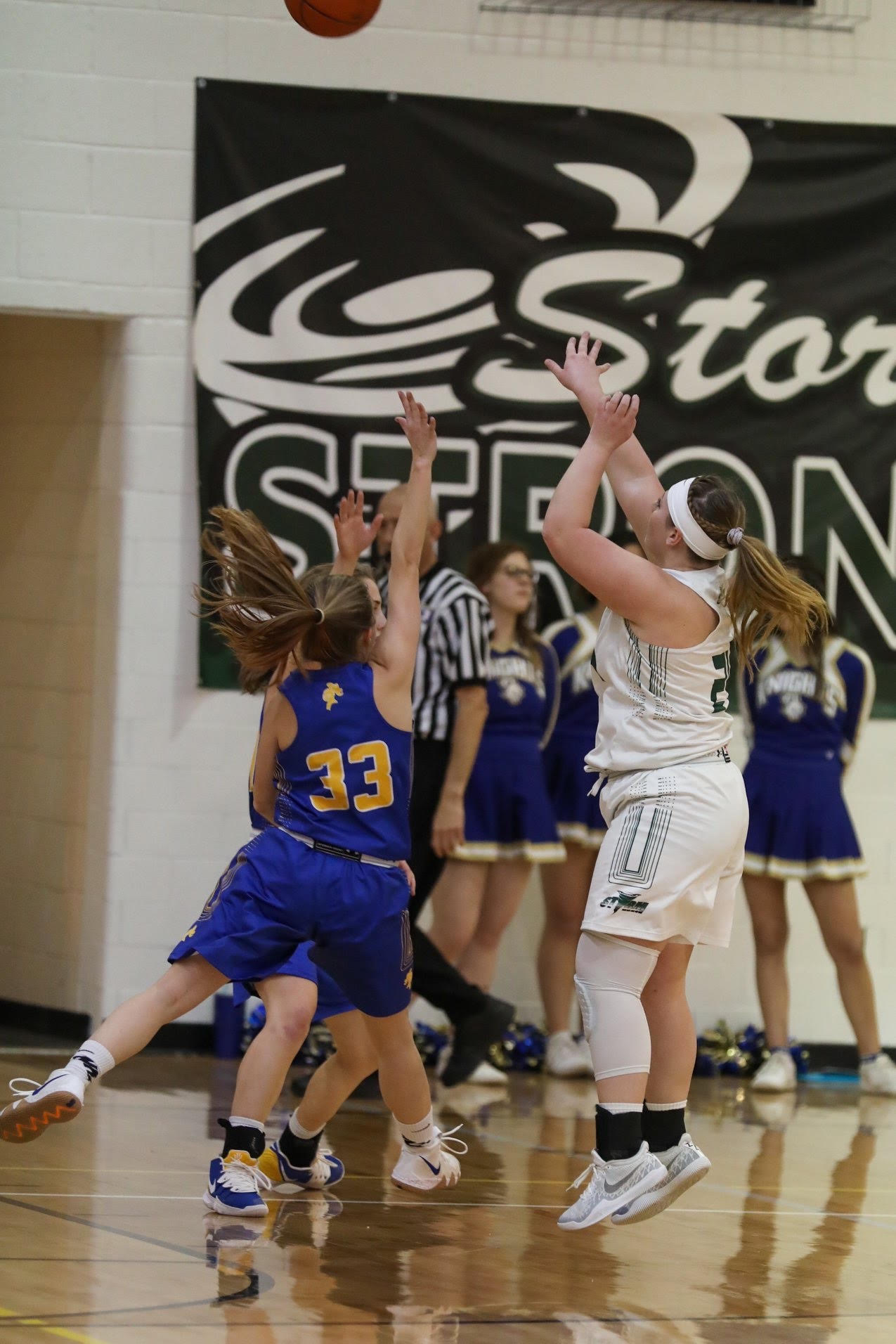 While students, seniors in particular, should be making many end-of-the-year memories, they're instead separated, hunkered down at home and finishing the school year online. Koenen underwent knee surgery and missed the week before the closure. The week before that was spring break. In short, it's been a strange month, and not seeing her friends every day has been the most difficult part.
"A couple of my friends, we FaceTime daily and do our homework together and talk," Koenen said. "And even a couple of my teachers who I'm really close with, like my coaches, we talk daily. My track coach is the counselor, so we talk about scholarships and things like that."
Koenen's days look a little different now. She gets a little more time to sleep in, which isn't so bad, and then sets up shop in her home's basement office. From there, the bandwidth wars begin. Her mom is a special education teacher and the athletic director at CVS, and her dad works from his office upstairs, too.
"We have three computers going all day," Koenen said. "The internet is crazy at times."
At the moment, everything surrounding her life seems stuck in neutral, but that's not exactly how Catie functions. She will be attending Colorado State in the fall, studying biology with an emphasis in pre-med. There's no time to slow down.
"I want to study abroad in the summer semesters to get my degree early, and, eventually, I want to be a pediatrician and take part in the Doctors Without Borders program," Koenen said.
An elementary aide for teachers this school year and an assistant coach at the junior high, Koenen has been afforded opportunities at CVS that are unique at other places. She's entrusted with a lot of responsibility, just one of the many reasons Koenen loves this place, and why she'll miss it.
"I'd definitely say I'll remember sports the most, but for more than just the games," she said. "I'll remember the bus rides and the bonding and I'll remember coaching the younger kids and my time in the kindergarten classroom."
The future excites Koenen, and the team at CVS can't wait to watch her chase those dreams. Though school closing abruptly may have forced some good-byes to be left temporarily unsaid, Catie has a message for all of her teachers throughout the years.
"I would say thank you, because I would not be the person I am today without them."