Candy Bars, Cold Sodas and 103 Streams: Milford's Striv broadcast crew pulls double shifts to keep community connected
Candy Bars, Cold Sodas and 103 Streams: Milford's Striv broadcast crew pulls double shifts to keep community connected
Friday, February 26, 2021
By Tyler Dahlgren
The play was zany enough to leave any spectator speechless, involving a missed shot, a fortuitous bounce off an opponent's head, and the unlikeliest pair of points a basketball team will ever come by.
Luckily for those tuning in on the Milford Striv channel, the broadcast team of eighth-grader Braden Soester and sixth-grader Zephyr Mowinkel aren't known to mince words while in the booth. In fact, two weeks later they're still trying to paint the wacky picture.
"So what happened was one player took a shot and missed, but the ball bounced off another player's head and she had no idea what happened," Zephyr explained. "Then the ball went back and swished through the hoop. It was crazy."
From their perch in one of two gymnasiums the team broadcasts events from, the two colorfully rehashed the play that night-for nearly five minutes.
"They were loud, and I think the fans in the stands stopped watching the game and turned to watch them," Striv advisor and math teacher Nick Restau joked. "They'd never seen anything like it, and they just couldn't let it go."
That type of enthusiasm has come to be appreciated by the Milford community. Especially in the midst of a whirlwind broadcasting spree of 92 athletic events and 103 total events since the first day of school. Milford's 11-member production team, made up of six high school broadcasting students and five middle school volunteers, don't take many nights off.
"I don't know if people realize the amount of time and effort that this group puts in," said superintendent Kevin Wingard. "They're just a hard working group of kids, and they do it all for a candy bar and a pop."
In a typical year, the Striv team at Milford would have streamed just under 40 events up to this point, all varsity athletic contests. When the pandemic presented them with challenges, the group chose to ramp things up for the sake of the community, adding an extra channel and taking on the improbable task of televising ALL events. This included varsity, junior varsity and even middle school games, elementary programs, the school's Veteran's Day Program, Friday Morning Pep Band and choir/band concerts, too.
Their hard work has resulted in a staggering 178 percent increase in broadcasts. The crew has emerged as an unbreakable link between a school and a community.
"This is our most valuable group of the year, right here," said Wingard. "They are the group that's helped us survive COVID."
With limited attendance, the connection and access they've provided has been invaluable. The district recently received a thank you letter from a grandmother who was delighted by the opportunity to see her grandson play in a junior varsity basketball game.
For the group, such appreciation serves as affirmation.
"It's really cool to know that people across the state, like grandparents and aunts and uncles that can't make it to games get to watch because of us," said eighth-grader Brecken Yoder. "When they tell us that we did a good job, it feels good. We know we're helping others and that's a big reason why we're doing it in the first place."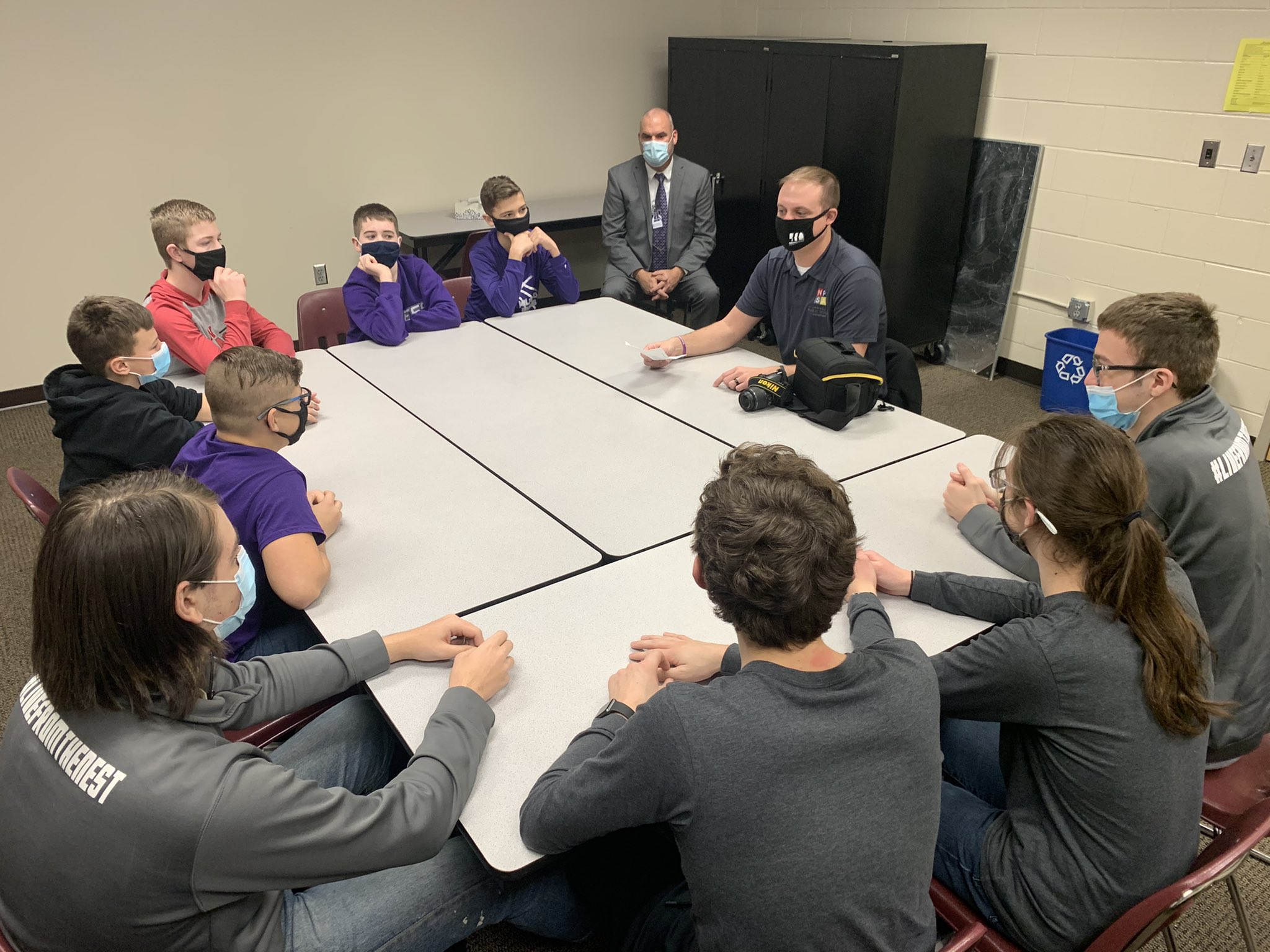 ---
Though Nolan Eickhoff is only a sophomore, he's already a Striv veteran.
One of two legacy siblings in the group, Nolan's older brother Owen helped Striv get off the ground at Milford. Owen, now in college, turned that experience into a job working tech support for Striv, a company that has revolutionized high school sports streaming in Nebraska.
"I've been doing this since seventh-grade," (Nolan) Eickhoff said. "There for a good while, it was just two people running the entire broadcast. With what we're doing now, you need more than just a couple of people. You grow close and learn how everyone else works. You know where everyone is and what everyone does, because that's important to a good broadcast."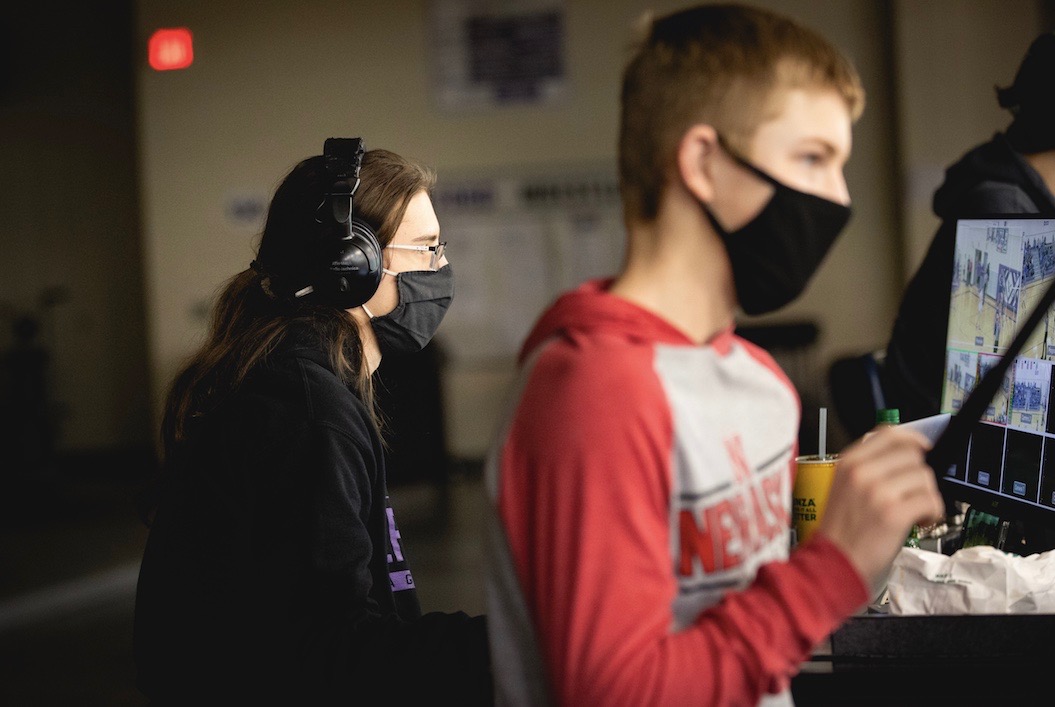 (Pictured Above: Sophomore Nolan Eickhoff runs the computer during a Milford Striv broadcast while eighth-grader Kellan Kubicek mans the camera. Courtesy Photo: Brandon Mowinkel)
What they have now is wildly impressive. The production value is through the roof, and the team works hard to ensure that their product continually evolves by adding new graphics and logos to their broadcasts through the year.
"I don't know about these guys, but I never really watch back on the old games," said Eikhoff. "You can definitely tell that we have gotten a lot better, though. What we have now is pretty good."
Pretty good might be the understatement of the year, considering the crew is often times broadcasting two events in separate gymnasiums simultaneously. The coordination it takes to pull that off can't be understated.
"We've had to be really flexible with how we've spread our time and getting people to where they need to be so that everything runs smoothly," said junior Matthew Roth, a play-by-play announcer whose older brother also went through Striv at the school.
There hasn't been a single game at the high school, outside of one night of technical difficulties in the south gym, where the broadcast team hasn't had at least one person on each the microphone, camera and computer.
"Their evenings are taken," said Restau. "We've had times where games get cancelled and then rescheduled and they've always done a good job of bending their schedules and making it work. They're a committed crew."
While everyone specializes in one area, they've all learned to fill different roles and wear many hats. Eickhoff runs the computer and everything behind the scenes while Roth often teams with color analyst and fellow junior Landon Lautzenhiser in the booth. Senior Dawson Havens is great with both a camera or a computer and even streamed the elementary Veteran's Day Program solo.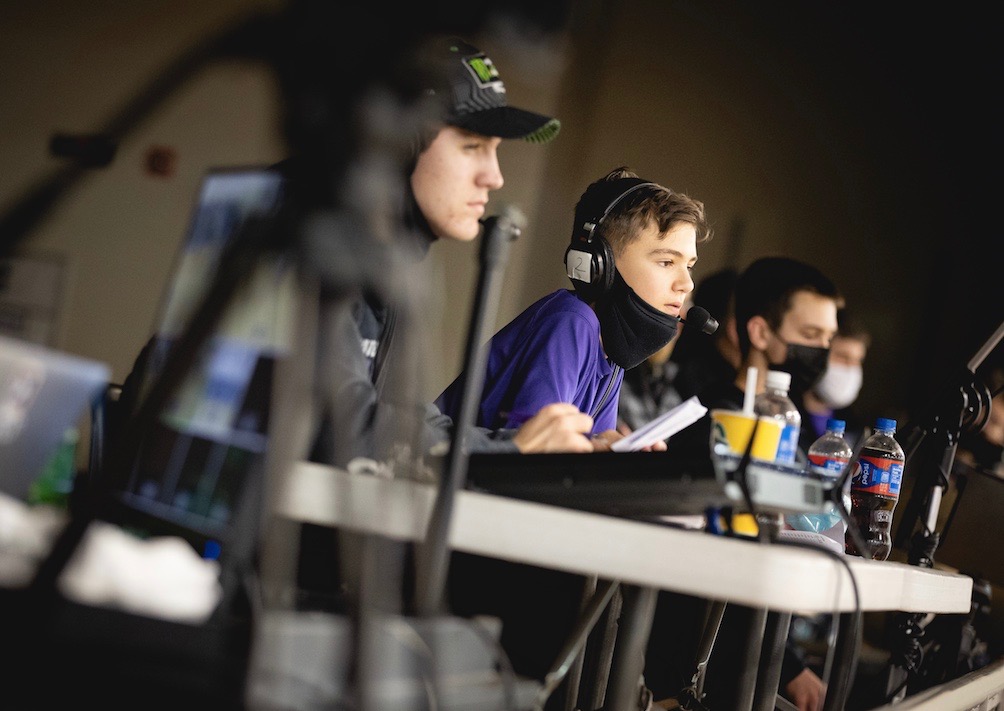 (Pictured Above: Junior Landon Lautzenhiser and eighth-grader Brecken Yoder give play-by-play and color commentary during a recent Milford basketball game. Courtesy Photo: Brandon Mowinkel)
The skills they're learning extend far beyond the broadcast, too.
"Team skills, being able to work together and communicate effectively are all big for the kids," said Restau. "It's a big service to the community. The idea of being able to tell our school story to our community is a big skill as well. They're also learning computer skills and technology skills like crazy."
The middle-schoolers, meanwhile, take it all in and model their work after their mentors.
"We pick up on some stuff they do, we imitate it and we try to understand what they're doing so that we know what we're doing when they leave," said eighth-grader Korbyn Kemerling.
Fellow eighth-grade student Kellan Kubicek agreed.
"They're really helpful and answer all of the questions we have, and it's a lot of fun to watch them and then model what we do after that."
Along the way, their confidence has grown.
"Everybody that's been on the mic, at one point didn't want to be on the mic," said JR/SR High School Principal Brandon Mowinkel. "Now you throw any of them a headset and they're going to talk your head off for the next hour and a half of the game they're doing."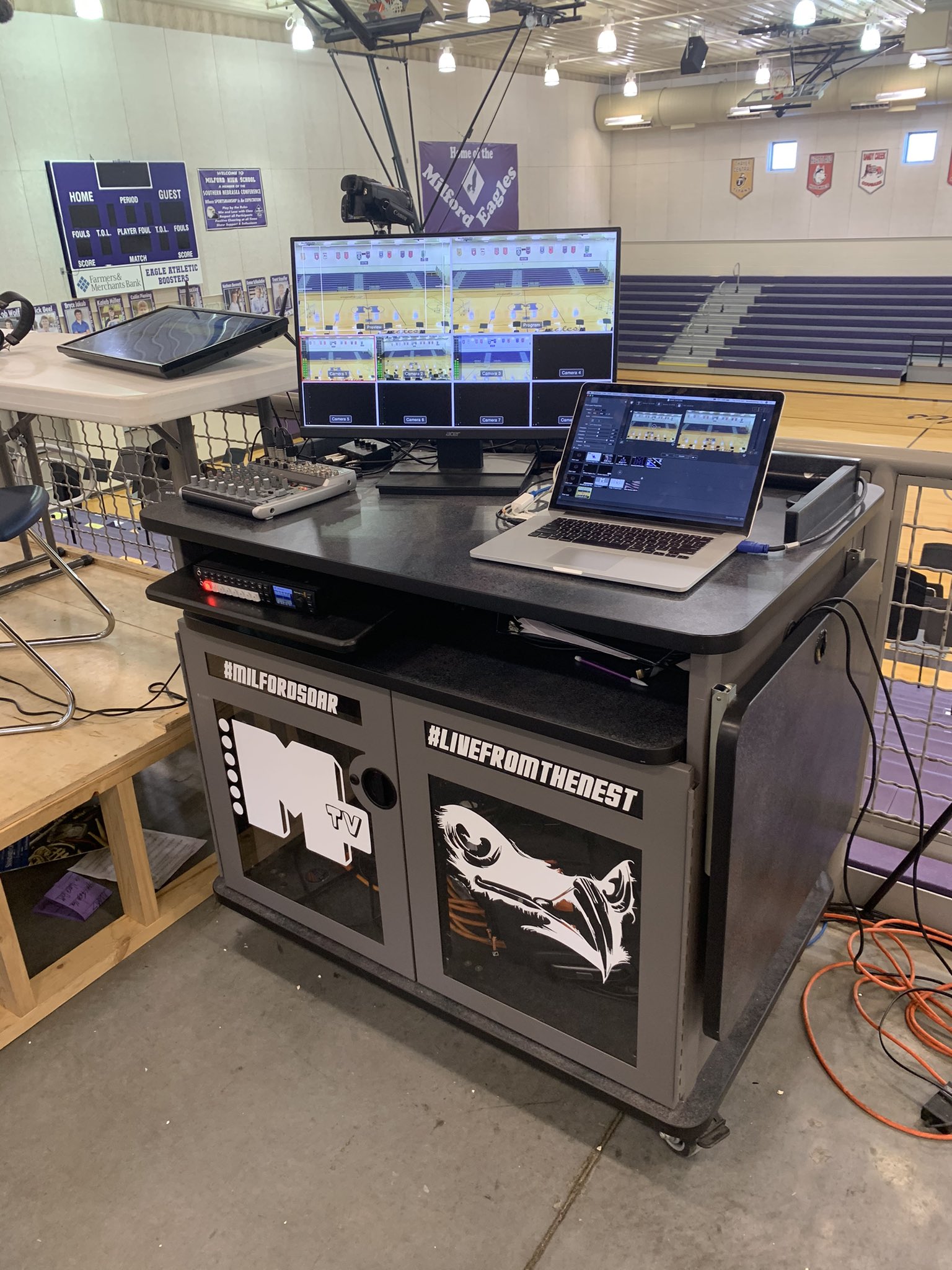 ---
More than 900 viewers tuned in on Dec. 4 when Fillmore Central came to town to kick off the basketball season, one that has been magical for the now 25-0 Milford boys team. Even after restrictions were lessened, an average of 250-300 people continued to stream school events.
While hosting the C1-2 sub-district bracket this week, viewership eclipsed the 1,000 mark at times. Heavy traffic requires dependable equipment, and, thanks to an anonymous donation a handful of years ago the Milford Striv team enjoys top-of-the-line technology.
Just as important as the impressive digs is the support they feel from the Milford staff.
"Any time we ask for something, they're always willing to provide what we need," said Roth. "It just makes our life super easy."
Support, Mowinkel explained, runs in layers. The district has had a great relationship with Striv and founder Taylor Siebert since day one. Coincidentally, Milford is where it all started for the Henderson-based start-up, whose first live event was the Southern Nebraska Conference volleyball tournament in the school's north gym back in 2012.
"They're (Striv) always there for you and it's just an amazing program with an incredible vision," Mowinkel said. "We have a district motto, 'Everyone has a story, make yours worth telling,' and there's no better way to tell our story than what these guys do through Striv three or four nights a week. They're working their tails off and learning all of these other skills that we couldn't even have imagined they'd learn."
With events on the docket nearly every single night, finding a time to study up on opposing rosters can be tricky. The broadcasters make sure to do their homework, though, knowing that fans from other communities make up a good portion of the audience.
"I make sure to look on Hudl and search who's good and who to know before the game," said Lautzenhiser. "Like when we played Ashland-Greenwood this year. They have one of the best players in the state, who was out, so I made sure to mention that because it was a big thing. The hardest part is probably the last names."
Coming off as unbiased and remaining even-keeled when the Eagles make a big play isn't easy for the student broadcasters, especially when it's their friends out on the court making plays.
"Braden and I had a basketball game once where Korbyn was commentating and we all went back and listened together," said Yoder. "We just smiled because we're usually with him up there, but it was just him and his brother calling our eighth-grade game. It was so cool."
Mowinkel said that visiting fanbases have even offered compliments on the crew's balanced calls.
"I don't know what their problem is," Havens joked towards his peers. "It's pretty easy to not be biased with the camera."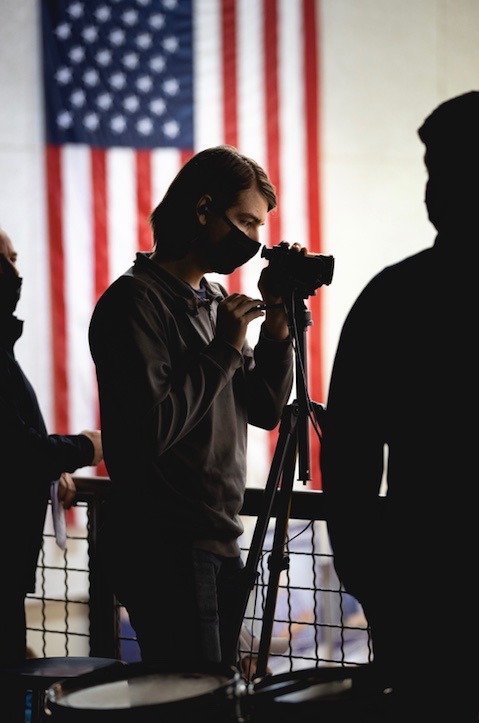 (Pictured Above: Dawson Havens, a senior at Milford High School, running the camera for one of the Eagles' events. Courtesy Photo: Brandon Mowinkel)
Wingard calls the Milford Striv team the "hardest working group of kids in school." This year, their efforts have been nothing short of incredible. He hopes the community doesn't take them for granted.
"This has been the most active group in our history."
For the kids, every time they put on the headset is the start of a new adventure. No matter how many games they've logged, the next one up is always the most exciting.
"It's an afterschool type of thing that you can just do for fun," said Soester. "We look forward to it every day."
The crew has helped out at the state basketball tournaments and guest commentated at different venues on the road, too. Road trips, they unanimously agree, are the best.
Mowinkel, he said, is amazed at how far the program has come in five years, and is eager to see where it will be in another five.
"It's not without reward, because it's really a fun experience," Yoder said. "Every night is something new with something different happening. You never know what's going to hit you in the game and what you're going to have to adapt to and overcome."
All they ask for in return is a candy bar and an ice-cold soda pop.