Building a Kingdom of Wellness: "Wellness 4 All" model gives students in Seward County districts a comfortable space to center
Building a Kingdom of Wellness: "Wellness 4 All" model gives students in Seward County districts a comfortable space to center
Wednesday, December 14, 2022
By Tyler Dahlgren
Early in the first semester of his senior year at Milford High School, Alec Shook learned a lesson as valuable as anything a dozen years of curriculum could possibly offer.
"It's healthier to speak about your problems than to let them build up," Shook said.
For years, Shook had done the latter. He'd stash worries and file burdens until the coast appeared clear, figuring an "out of sight, out of mind" approach would work well-enough.
That approach, he learned, worked up until the point that it didn't. Band-Aids eventually wear. Then he walked by the Wellness Nest, and life changed forever.
"When I spend time here, talking with her, I definitely feel better about things," Shook said. "I've seen it help in sports. There was a time during football season when I was struggling with some things and it was affecting my play on the field. I talked to her during the week and my play just got better."
Her is Jen McNally, Director of Mental Health and Wellness at ESU 5. Milford, you might already know, is outside of ESU 5's service map. So, too, are Centennial and Seward, the other two districts inside Seward County.
Through a partnership between the schools, ESU 6 and Memorial Hospital in Seward, the three superintendents were able to bring McNally and her dynamic team, which includes school psychologist Jamie Mapp and psychotherapist Cole Stark, into their districts during the 2022-23 school year to implement the innovative and successful "Wellness 4 All" model.
"It's a complete honor," said McNally, whose team now serves students in 13 school districts. "This is a universal issue for kids, and we all need support at that level. It's produced really great outcomes."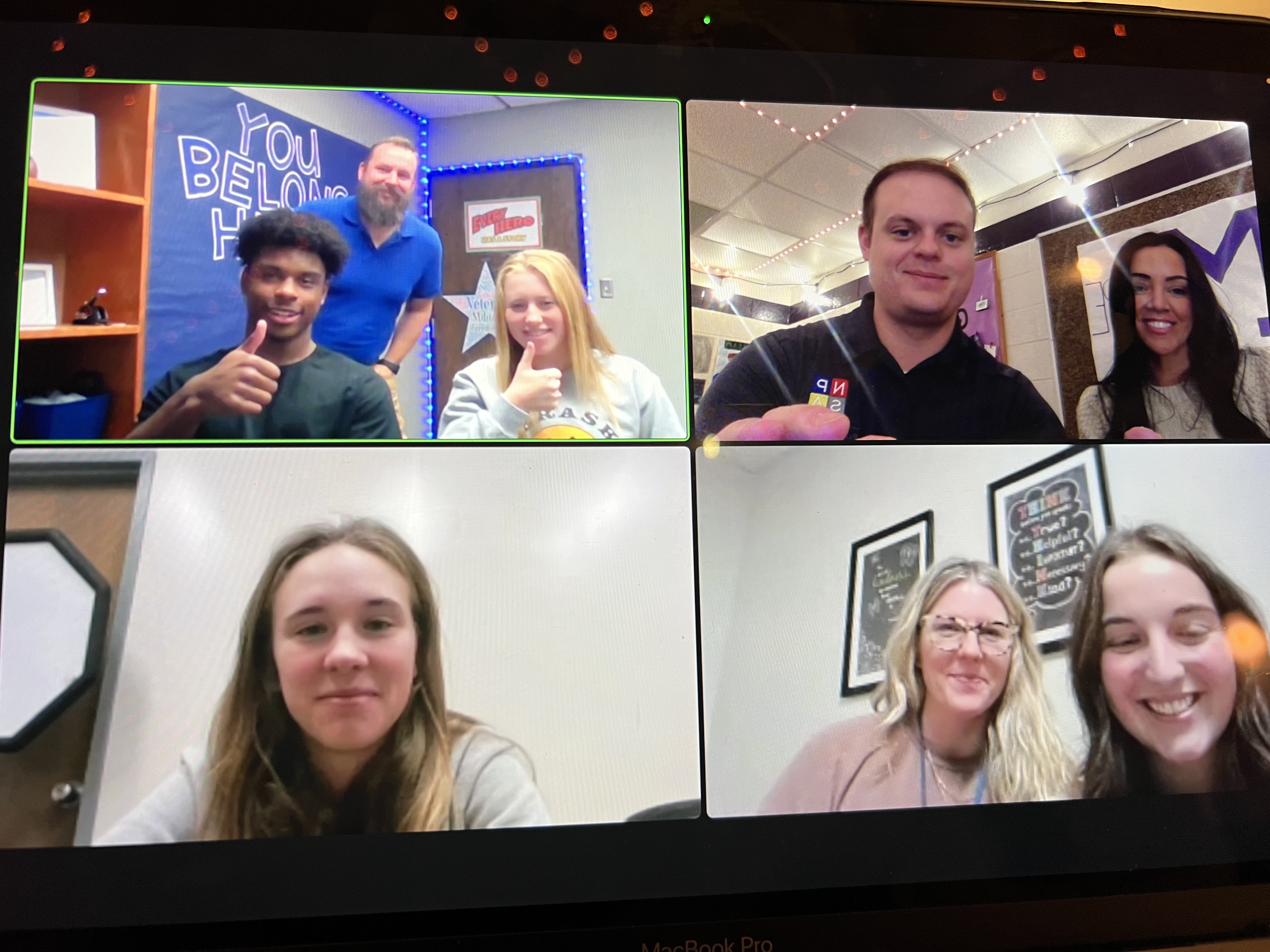 ---
It's midday on a Monday, midway through the school year, as Shook sits on a couch next to junior Reice Stutzman, his teammate on the basketball court, and sophomore Ayla Roth, an FCA member who plays softball and basketball for the Eagles.
Shook speaks about this room, what goes on in here and what it's done for him. Overhead, decorative fluorescent lighting illuminates a calming environment. The Wellness Nest is undeniably homely.
"We decided to create a comfortable, inviting space for kids to come to either work on their schoolwork or talk to somebody if they need to," said McNally.
Twelve miles north in Seward and 25 miles to the northwest in Utica, several students are doing the same, including Maj Nisly, a standout three-sport athlete who's just as comfortable working with Stark in Centennial's new wellness space as he is darting through defenders on the gridiron and raining threes on the hardwood.
"Having them come in, it really gave our school a greater sense of community, and it kind of eased everybody," said Nisly. "For the kids who were struggling, it made school a more comfortable place and it also provided them professional help with their problems."
Everybody has mental health. Everybody has good days and bad days, McNally said. You don't need a clinical diagnosis to benefit from talking to someone. This year, students in Milford, Centennial and Seward have gained their someone.
"It's helped a lot knowing we have somebody to go to," said junior Ava Fischer, who plays softball and basketball and is involved in a long list of clubs at Centennial. "Most of us who come in here are involved in multiple activities around the school and in the community, so it's nice to have somebody to talk to when you're stressed out from all of that."
Stutzman is McNally's "construction worker", a title he earned through his extraordinary light-hanging and furniture-arranging capabilities. Before this year, school was a chore. Sure, he enjoyed being here and spending time with friends, but the "Wellness 4 All" model has boosted his overall experience at Milford.
"I've noticed that I'm a lot better at handling situations internally and externally," said Stutzman, who credits some of his growth to time spent in the nest. "People tend to keep their emotions in, and then everything topples and bottles up before something happens and it all comes crashing down. Being in here and working with Jen, you can flatten everything out, one visit at a time."
Stutzman said that McNally has helped him gain respect for himself throughout the year. Life, he said, has become smoother and less stressful.
"I was on the fence at first," he said. "Then something happened, so I came in here and just kept coming back. Everything started to get better."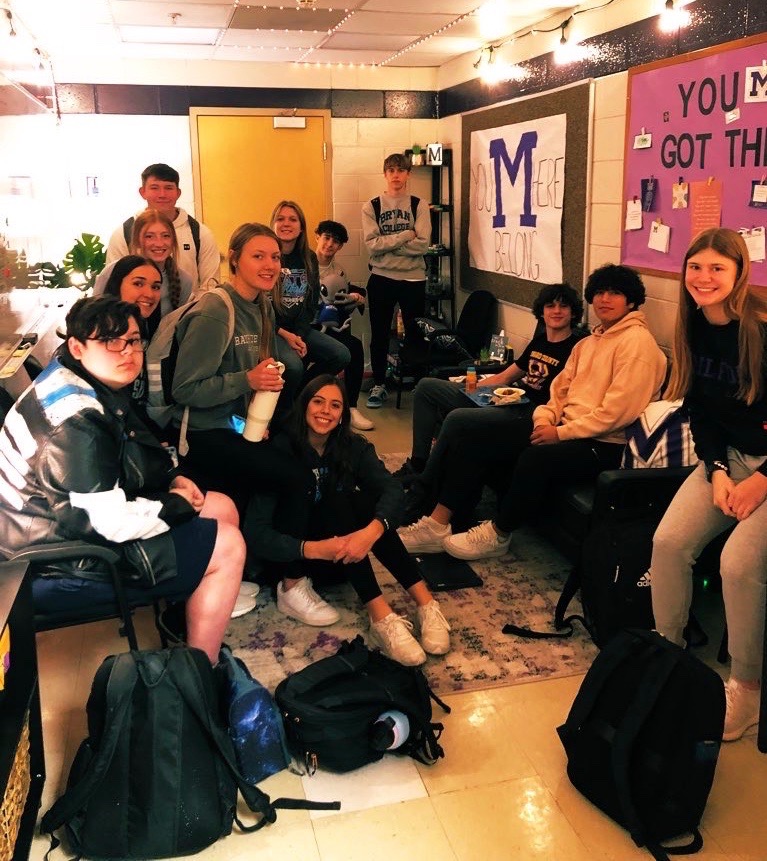 ---
As a freshman, Roth would get home from school, head to her room and shut the door. She wouldn't talk much to anyone, instead decompressing in solitude. This year, she gets home already relaxed and excited to share her day with her parents.
"I've learned that it's okay to not be okay," Roth said. "Everybody has their problems. It's important to come in here and talk them out. It's made me a better person outside of school, too."
It's also important to smile, said Roth. There's fun to be had here. McNally can be seen from time to time cruising down the hallways on Milford's new riding vacuum. Stutzman is infamous for putting a jolt into unsuspecting students during Homecoming week with the school's megaphone.
Before the school is dismissed for the holidays, the group will dress up in Christmas digs and toss around candy.
"We make sure it's a lot of fun," McNally said. "It's foundational. We have a lot of serious discussions and address a lot of serious things, but we also have discussions that spark joy."
The doors are always open.
"I like how it's on our time," said Nisly. "Cole's down when we're down to come in and talk."
"It's really nice that everybody has access," said Seward senior Madison Dominy, who plays volleyball and basketball for the Bluejays and also is involved with the Hope Squad, FBLA and Student Council. "We've never really had a formal person to go to. You would have to check out of school and miss two or three hours of class once a week. That was difficult. Now, we know right where to go."
And right who to go to. Dominy first saw Mapp early in the school year, wiping down tables at lunch and greeting students in the hallways.
"Jamie pushes herself to be with all of the students," Dominy said. "I'm pretty sure neither of those things are in her job description, but she's always helping wherever she's needed."
Where she's needed most is in here, where on this day she's sitting next to Dominy and Marisa Schmeckpeper, a sophomore who runs track and plays in the band.
"Jamie's been absolutely amazing," said Schmeckpeper. "She's reached out to everyone and she makes connections to everybody."
One of the four tenants of the program, along with professional development, climate and culture and educator wellness, is student wellbeing. The only way to achieve the latter is through relationships.
"Relationships are the cornerstone," said Mapp. "You have to let every youth feel seen and heard and valued. You have to reach all youth in order for the other pillars to be able to plant those roots and sustain this program. It's the cornerstone of every single thing we do."
Nisly appreciates his relationship with Stark, and says he has a ton of respect for what he's done at Centennial in just a semester.
"Coming in here as a new guy and building all these relationships within a few months is pretty impressive," he added. "Personally, he's helped me with putting my worries about every outcome to the side. I've learned to live in the moment and be myself. Talking with him has taught me to always be honest and to always have integrity. The outcome will be what you want it to be if you focus on those things."
Hearing those words from a student is a powerful experience for the team from ESU 5, who, above all, strives to help students realize their full potential, said Mapp.
"We want them to be the best version of themselves," she continued. "It's empowerment, and it's an honor to be alongside kids who are willing to explore that and get there. For us, it's so rewarding when they do."
---
The ESU 5 team has cultivated a wide web of stigma-busters, one that's trickled down to the hallways in the schools they serve.
Dominy has noticed a new willingness among her peers to talk about mental health. Before, she said, the topic was pretty much taboo. Now, it's not uncommon for a classmate to approach her with questions about the program.
Mental Health Weeks were even held at all three districts during the first semester.
"The wellness challenges Jamie's implemented are fun, too," said Dominy. "Go give someone a hug and different little things like that, it really has a big impact on our school's culture."
Mapp has helped to normalize wellness, she continued.
"Often, students who are high-achieving are perceived as having it all together all the time," said Dominy. "The reality, though, is that if you have a brain, you have mental health. It's important for everybody to understand that and to have an environment where it's okay to vocalize that."
To hear students talk so candidly and vibrantly about their wellness journeys is not only encouraging, but invigorating.
"That's the biggest honor," said McNally. "It was great seeing the kids able to identify the components of our model, which is de-stigmatizing mental health and creating a climate of inclusiveness and positivity."
It means a lot to the students that their administrations sought out these services and spurred on the collaboration that ultimately brought the professionals from ESU 5 to Seward County. Students are cognizant of those types of efforts.
"It just shows what kind of people they are," said Nisly. "It's cool to think that it's starting now and will continue on for future generations until we've built a kingdom of wellness and good mental health."
Fischer appreciates the proactive measures taken by the Centennial leadership, given the challenges students and educators have faced the last few years.
"Especially since mental health has been dropping in high school students," she said. "It's great that we're trying to build it up now rather than when it gets to rock bottom."
Putting action behind words, that's what has meant the most to Shook.
"They definitely cared about us before, but by bringing the 'Wellness 4 All' program in, they proved it," he said. "They showed us they cared about us."
The interview ends, we share a few parting words and shake hands. I leave, and nobody follows me out. Shook, Stutzman and Roth remain seated on the couch, sharing a laugh.
They'll stay in the Wellness Nest for a while, and that's just fine.