The Avenue Scholars Series: Proud alum Qua'Niquia Damper is a shining light at Children's
The Avenue Scholars Series: Proud alum Qua'Niquia Damper is a shining light at Children's
By Tyler Dahlgren
Downtime is a rare commodity in the course of Qua'Niquia Damper's typical day.
The 2016 Omaha North graduate is a medical assistant in the Hematology-Oncology Department at Children's Hospital, where she puts in a full eight hours before heading to Maple Crest Health Center for another shift. Damper is a talented hair stylist, too, and books appointments on the side.
Damper, you could say, is stuck in motion. And she has been since being accepted into Avenue Scholars as a high school sophomore in 2014, two years before graduating from Omaha North.
That's when Damper's life changed forever, when she took the first step from carefree 15-year-old to a shining ambassador for the program that changed her life.
"When I was selected for Avenue Scholars, I realized 'This is your opportunity, and you have to run with it,'" Damper said. "I just knew that this was my chance to get some type of degree, some type of certificate. That was my goal, just to get it done."
Damper hasn't let an opportunity slip past her since.
"Avenue Scholars provided me with an important perspective, another outlook on life," Damper said. "In high school, you're all playful and carefree. I started off as a girl who didn't always pay attention. I always liked school, that wasn't a big issue, but my focus wasn't there. It wasn't intentional. This changed my mindset. It changed my future."
It's 2022 now, and Damper lives in that future every day. Every busy, crazy, beautiful day.
She earned her associate's degree in professional health studies from Metropolitan Community College through the program years ago, one of her proudest moments, and has thrived professionally since.
"Qua'Niquia is absolutely amazing at what she does," said Avenue Scholars career coach Tonya Fairgood, who joked that her former scholar is becoming the face of Children's Hospital. "She's very good with kids and seeing her in her element is such a cool thing. That makes me feel so proud."
Damper's is often times the first face her patients see. She checks on vitals-blood pressure, height, weight, temperature, etc. She draws blood when needed and sometimes administers flu shots and other immunizations.
It's not always easy-Damper works with very sick children-but she does so with a smile.
"The hardest part of my job is watching them go through this unimaginably hard time," she explained. "They're two and three-years-old, very sick and battling cancer, and they come in with a smile on their face. Their strength is inspiring. They're inspiring. I love working with them. I really do. They are just so sweet."
Damper's journey is inspiring, too. Fairgood knows it well. The two still keep in touch regularly, and she often refers to Damper as the "perfect scholar."
"She's been through so much, and how she's persevered says a lot about her character," said Fairgood, who joined the Avenue Scholars staff in 2018 after paving a career in non-profit work. "She's had a number of things happen to her, a string of deaths in her life recently and she's still able to fight through it all. She continued to work and stayed positive and motivated. She's incredible."
Damper is used to having the odds stacked against her.
"Coming from North Omaha, nobody really pays attention to you," she said. "People look at you and almost dismiss you right away, but when you do something good, when you accomplish a goal, it feels so good. My biggest thing was not becoming a statistic. Avenue Scholars helped me not become a statistic."
Damper formed a special bond with Fairgood, in particular. Her career coach turned friend is always a phone call or a text away. Through the years, Fairgood has helped with food or gas or transportation (Damper earned her CNA in high school without owning a car), and she's always held Damper accountable, too. If schoolwork ever slipped, Damper could expect an immediate call.
Damper doesn't know if she would have made it through otherwise.
"She was there the whole time," she said of her career coach. "And I love that."
Fairgood says this is the best job she's ever had. She's worked with some fantastic non-profit organizations, but Avenue Scholars, she vows, is the cream of the crop.
"The investments they put into young people is amazing," Fairgood said. "That's something I've been looking for my entire career. It's a passion of mine to make sure that people are on the path they wish to be on, and to see Qua'Niquia enjoy her field so much, that makes me feel fulfilled."
Minorities, Fairgood continued, are not represented within the healthcare community like they should be. Damper, who has accomplished so much in such a short amount of time, is a role model for girls growing up in North Omaha right now.
"When everything comes to fruition, there's no better feeling for us career coaches," Fairgood said. "To see these opportunities being created for students in Omaha who otherwise wouldn't have them, it warms my heart."
It's 5 p.m. when the interview wraps up and we head for our cars, but Qua'Niquia Damper's day is far from over. That's one thing all Avenue Scholars have in common. They're always moving forward.
"One day, I might want to go back to school, maybe to do something with ultrasound," Damper said. "But right now, I love what I'm doing. I love my job at Children's. I know that I make a difference in the lives of my patients. There's nothing more rewarding than that."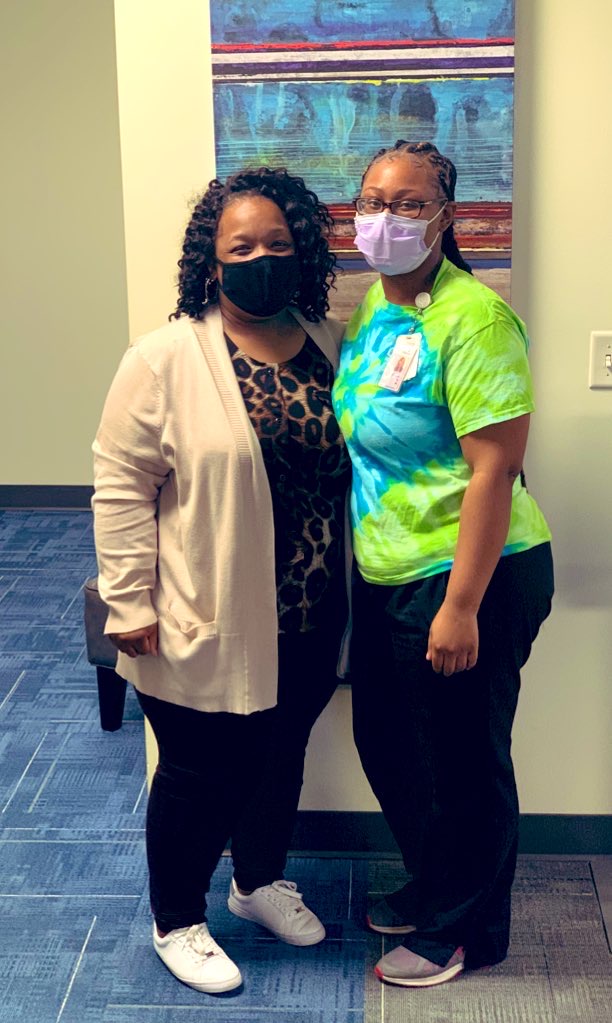 (Above: Avenue Scholars Career Coach Tonya Fairgood, left, and her former scholar Qua'Niquia Damper still stay in touch regularly.)