The Avenue Scholars Series: Millard South senior Billiana Mekoum cherishes opportunity with United Way of the Midlands
The Avenue Scholars Series: Millard South senior Billiana Mekoum cherishes opportunity with United Way of the Midlands
By Tyler Dahlgren
Marquita Lambert remembers the first time she met Billiana Mekoum.
It was last school year, Lambert's first as an Avenue Scholars career coach at Millard South, and Mekoum, a junior at the time, was quiet. Shy, even. Her potential, however, was quite pronounced.
"I saw that Billiana had the drive," said Lambert, herself an owner of multiple businesses. "She wanted to make a difference. That was quickly apparent. She wanted to make a future for herself."
Since 2008, Avenue Scholars has given students like Billiana Mekoum an opportunity to do just that. Now a Millard South senior, Mekoum is shining both as a student and as United Way of the Midlands' Community Impact & Analysis Intern.
In her role, Mekoum does a little bit of everything. She's well-versed in research, in using demographics and data to determine what needs exist within the community and the best ways to address those needs. She's assisting with a DEI (diversity, equity and inclusion) fund and building a professional network with the many organizations United Way partners with.
"I know a lot more about the community now," Mekoum said. "I know what the community needs and I know who is helping and where the resources are. I didn't know any of that before Avenue Scholars and The United Way. I didn't know my community like I do now."
Mekoum thinks of all she didn't know two years ago, and lets out a small laugh.
"I didn't know much about business or what it would look like to live and work in that world," she said. "Being able to work in an environment where the focus is helping people, for a non-profit and seeing what makes their model successful, just communicating and building networks, it's been an amazing experience."
Three years ago, she had no idea how she was going to get into college. Then, a couple of teachers recommended her for Avenue Scholars. Two years ago, she was nervous as heck for the program's interview process. Then, she opened her mailbox.
"When I read that I was accepted, I just had to call my best friend and tell her how happy I was," Mekoum remembers.
After learning even more about what she was walking into, Mekoum's excitement only grew.
"I was just amazed," she said. "I finally felt like I had the opportunity to go to college, the opportunity to be successful, to find an actual career path."
To those who know her the best, there was little doubt whether Mekoum would make the most out of an opportunity that just 20-25 students at MSHS receive each year. Billiana's drive is obvious. She wears her motivation on her sleeve.
"You can say that you want to go to college or make it and become something, but are you going to put in the work?" Lambert said. "Are you going to use the resources that the program provides? You don't have to know exactly what you want to do, but you have to be open to those career explorations and listening to the professionals who come in and share experiences and advice and information."
Mekoum certainly was. She started out in the medical career field but found out rather quickly that she was better suited for business. Real world experience has a way of opening eyes like that, and it's an advantageous caveat for scholars in the program.
"They give you the opportunity to branch out," Mekoum explained. "They open your eyes to the real world and put you on a path to success. Even if you don't know necessarily what you want to do at the time, they will guide you through the process."
In Lambert, Mekoum has found more than incredible guidance. She's found a mentor.
"Mrs. Lambert is like my second mom," she said. "She's helped me express myself and showed me that I have a future. That I was going somewhere. Being guided by someone who has two businesses herself, someone who is just a great role model, that's been very influential."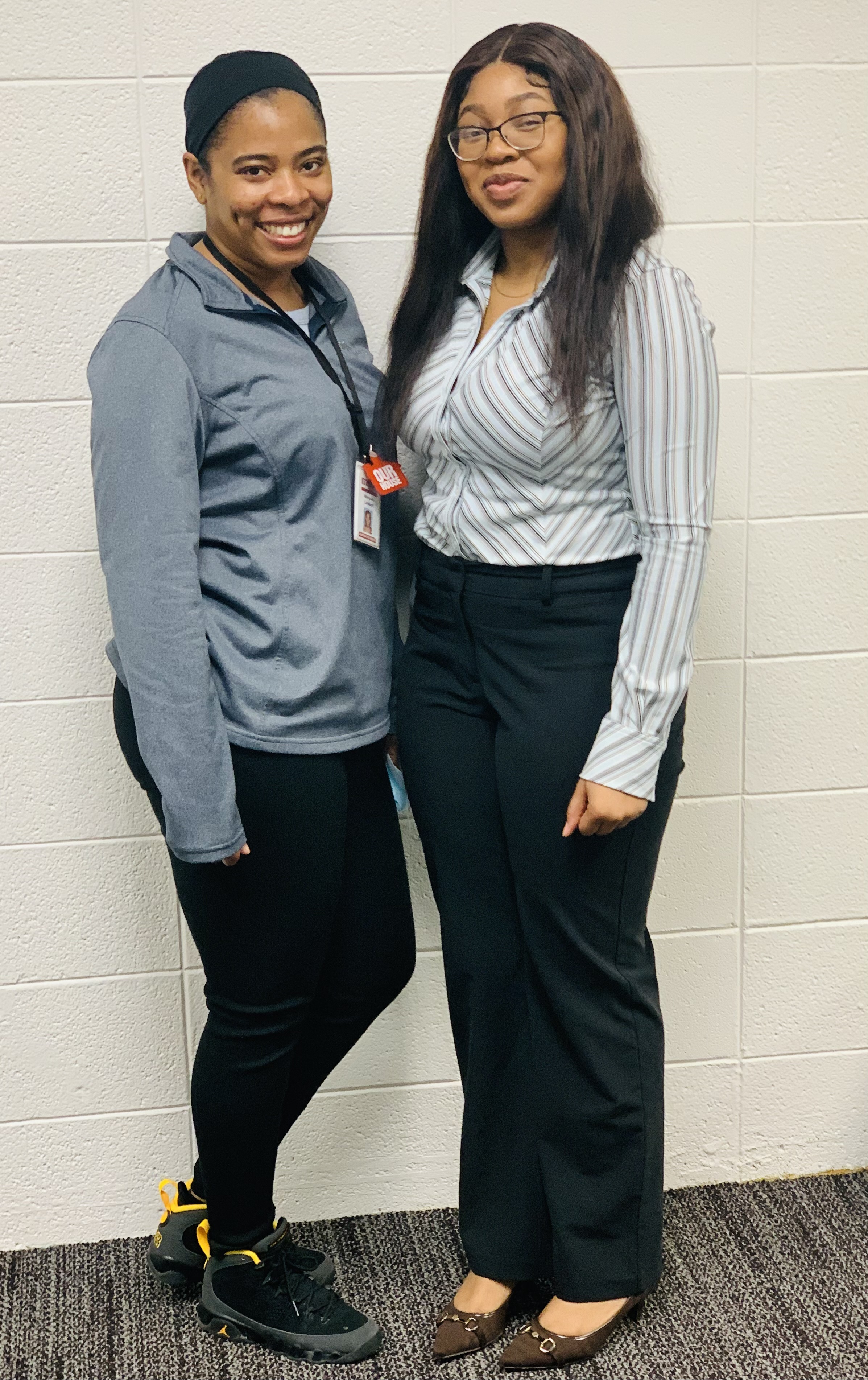 (Pictured above: Career coach Marquita Lambert and Millard South senior Billiana Mekoum)
There isn't a tone of complacency to Lambert's story, either. She graduated college and started businesses and was, for a short while anyways, content with leaving it at that. However, when her cousin who works for Avenue Scholars told her that the organization was hiring, Lambert's ears perked up. She was familiar with the program's reputation. She knew of all the doors it had opened for Omaha students.
"I was like, 'Well, who can I send a resume to?'" Lambert laughed. "I came in and instantly loved it. The students we work with are amazing. It's an awesome program, and I'm so glad to be a part of it."
Lambert is a motivator, all Avenue Scholars career coaches are, and there have been times when she's pushed Mekoum.
"I did that because I saw so much potential," Lambert said. "Now that the potential is realized, she's just grown so much. It's just amazing. I can't wait to see how successful she will be in the future."
Mekoum is currently taking a Business Math course at Metropolitan Community College through Avenue Scholars and will then transfer her credits to UNO. While reveling the head start on the rest of her life, she's also trying to soak in the last couple months of high school.
"I've made really great friends through Avenue Scholars, like best friends, and I love to hang out with them," she said. "We go to the movies or we ride go-carts at Amazing Pizza Machine. For the little time we have left of our senior year, we're trying to relive our childhood."
Avenue Scholars, Mekoum said, is the best experience she's ever had.
"This has made me persistent and sure of myself," she said. "Now, I set a goal and say 'This is what I want, and this is how I'm going to do it.'"