The Avenue Scholars Series: Like he always does, Nazeer Rahy hits the ground running in internship
The Avenue Scholars Series: Like he always does, Nazeer Rahy hits the ground running in internship
By Tyler Dahlgren
Nazeer Rahy tends to hit the ground running.
When his family came to America from Afghanistan through the Special Immigrant Visas (SIV) in 2014 (his father worked with the U.S. military for years prior), it didn't take as long you'd think for the then-12-year-old to acclimate to new surroundings. For example, though his favorite sport is and always will be soccer, Nazeer took interest in the American version of football. Now, he's a huge fan of both.
When he graduated from Millard South in 2020 and made the jump to Metropolitan Community College, he did so seamlessly. Nazeer stacked A's on top of A's and even in the midst of a global pandemic never skipped a beat.
So it's no suprise to Avenue Scholars post-secondary career coach Amanda Lonergan how quickly Rahy has made a favorable impression at Lutz, an Omaha accounting firm where he interns as a help desk technician.
"Nazeer is open to feedback, and he's motivated to do well," Lonergan said. "When you have those two qualities, you can go really far in life."
Lonergan believes Rahy will do just that. Rahy believes it too, and he credits being in Avenue Scholars since his sophomore year of high school as one of the reasons why. He thinks back to the interview process and the acceptance letter that followed and smiles. He didn't know then how lucky he was, he said, but he does now.
"This has been such a great experience, the whole way through," Rahy said. "My career coaches have been invested in my success the entire time. They're constantly monitoring my progress and asking how I'm doing with my classes or if I need any assistance as far as tutoring and other supports. Avenue Scholars is with you every step of the way."
Lonergan has an office at Metro's South Campus, where her current case load is 41 students. That number has been as high as 65 in some years. She began with Avenue Scholars three years ago, in March of 2019, after more than a decade working at Boys Town. And though her job is technically career coaching, it entails so much more than the title suggests.
"We have a lot of wraparound," said Lonergan. "I'm constantly working with my students on the academic side in partnership with the navigator here at Metro, and I'm constantly working with our student support coordinators to help our students with housing or transportation or mental health needs. We're a really collaborative program and we work side-by-side with students through everything that gets thrown at them."
There's certainly been challenges over the last two years. Since March of 2020, Rahy hasn't sat in a classroom with other students. He's earned a high school diploma and an associate's degree in a global pandemic-induced silo, one of the reasons he's so excited about the next step in his Avenue Scholars journey. Rahy has 15 classes to take at UNO to earn his bachelor's, and he will get to take those classes surrounded by other students.
"I'm most excited about seeing people," he laughed. "Since second semester of high school, I haven't been in an actual class with students."
Rahy pivoted from the medical field to the IT field after originally working as a CMA with UNMC. He had a change of heart, and chose to switch fields so that another scholar could take advantage of his spot. That's one of the neat things about Avenue Scholars, he said, the ability to find your way through real-world experiences.
"Learning something in class, and then applying it in the workplace is challenging," Rahy said. "It's different, but in a good way. Every day technologies keep changing and changing, so you have to be on top of it."
Rahy immersed himself in IT after the switch. He interviewed with Lutz in 2021 and began working the front desk, answering questions and dealing with email tickets and other odds and ends before moving to another department that allowed him to work one-on-one with clients. He's a part of the team now, and when Lonergan calls Lutz for progress reports, the feedback is always glowing.
"They say he's a hard worker, not afraid to ask questions, and a joy to be around," said Lonergan, who feels a sense of pride with each rave review. "It makes me proud, because you know that they're listening, that they're soaking in what you're coaching them and what they're learning in school and putting those skills to use. It feels really good to see them succeed."
Once a month, Rahy and Lonergan sit down for an hour and talk.
"She's a life-changer for me," Rahy said of Lonergan. "As has Avenue Scholars. Their welcome center has become a second home for me, basically."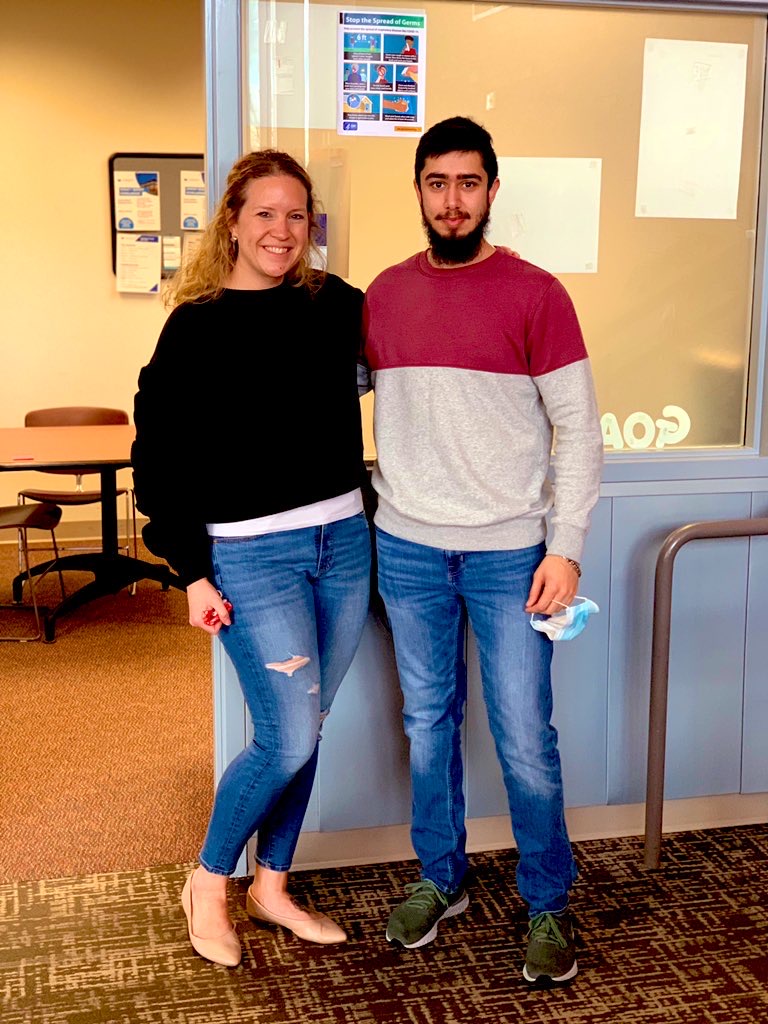 Lutz was one of the first Omaha IT businesses to partner with Avenue Scholars, and Lonergan said the program is excited to continue that partnership in the future. Connecting with the community is a crucial part of her role. She's had students work with Blue Cross/Blue Shield, Lincoln Financial, Mutual of Omaha, Access Bank, and more.
"The employers are so important to my role," she said. "For post-secondary career coaches, having those employers willing to engage with us and give our students a chance is huge. They've all been wonderful."
The ultimate goal, Lonergan said, is for the students to leave Avenue Scholars with an associate's degree and a full-time job that offers health benefits and pays $13.50 an hour or more, so that the scholars can keep themselves above the poverty line. The journey to get there can be tiring, but for Lonergan, there's nothing better than seeing a student find success and happiness in life.
"Seeing students overcome barriers and overcome obstacles, being able to help students get through anything, to complete school and find full-time jobs, that's the most rewarding part of this job," Lonergan said.
When it comes to students like Nazeer Rahy, rare as they may be, the best is yet to come. Incredible, considering what he's already accomplished.
And in there lives the power of Avenue Scholars.
"They don't let you fail," said Rahy. "They are always with you. They will always help you achieve what you really want to achieve."