Up and Running: In McCook, Bison Tech Team is always on call
Up and Running: In McCook, Bison Tech Team is always on call
Wednesday, September 11, 2019
By Tyler Dahlgren
The call came through some time around three in the morning, abruptly snapping Davin Brunswick, at the time a sophomore at McCook High School, out of a deep sleep.
When the phone rings in the middle of the night, the news on the other end is rarely good. One of his peers, in a state of panic, did indeed present the dazed and groggy Brunswick with an emergency.
"They had forgotten to type out their final, which was due the next morning, and their Chromebook wasn't working," he remembers. "I just kind of laughed, told them to let their device completely die and then charge it completely back up."
Voilà!
A solution, in the wee hours of the morning, courtesy of the Bison Tech Team.
Such is the life of this six-person crew at McCook High School, which has been supporting the district since 2016, the same year Tina Williams assumed her role as technology director.
Williams comes from the classroom. She's a former teacher who has always prioritized real-world student experience. When she started at McCook, she walked into a "smorgasbord" of technology. The tech in one classroom was more often than not different than the next. She set a goal for fluidity. Cohesiveness.
"I have this philosophy of simplifying things," Williams said. "We set out to streamline the tech in the district. I knew I couldn't do it by myself."
Williams saw an opportunity to engage students who were interested in technology in relevant and worthwhile projects, all while benefitting McCook Public Schools, and put out an announcement.
"I then did a short interview with them, following the application process, and pretty much took whoever would be interested," she said. "And bless their hearts, they cleaned up this district."
It wasn't easy. There's a building near campus with a giant garage port filled with equipment collected by the Bison Tech Team. During the streamlining process, they've gotten rid of much of it. It used to be quite a mess.
"It's still a mess," Brunswick laughs. "But we're getting there."
Williams looks at Bison Tech as a student-centered classroom. She entrusts her six team members with significant responsibilities, and the team trusts one another. Their list of accomplishments is extensive, and grows with each phone call in the middle of the night and Snapchat received in the middle of the day.
The Bison Tech Team is always on call.
To date, they've replaced 14 projectors at the elementary school, unpacked, installed software and distributed more than 550 Chromebooks, collaborated with ESU 10 to service countless repairs (which they're now able to handle on their own), held parent information sessions, manually built PCs and replaced an entire computer lab.
And that's not all.
"Keeping track of our accomplishments is important, and working on the summer accomplishment list is taking me quite a while," Williams said. "We did a lot."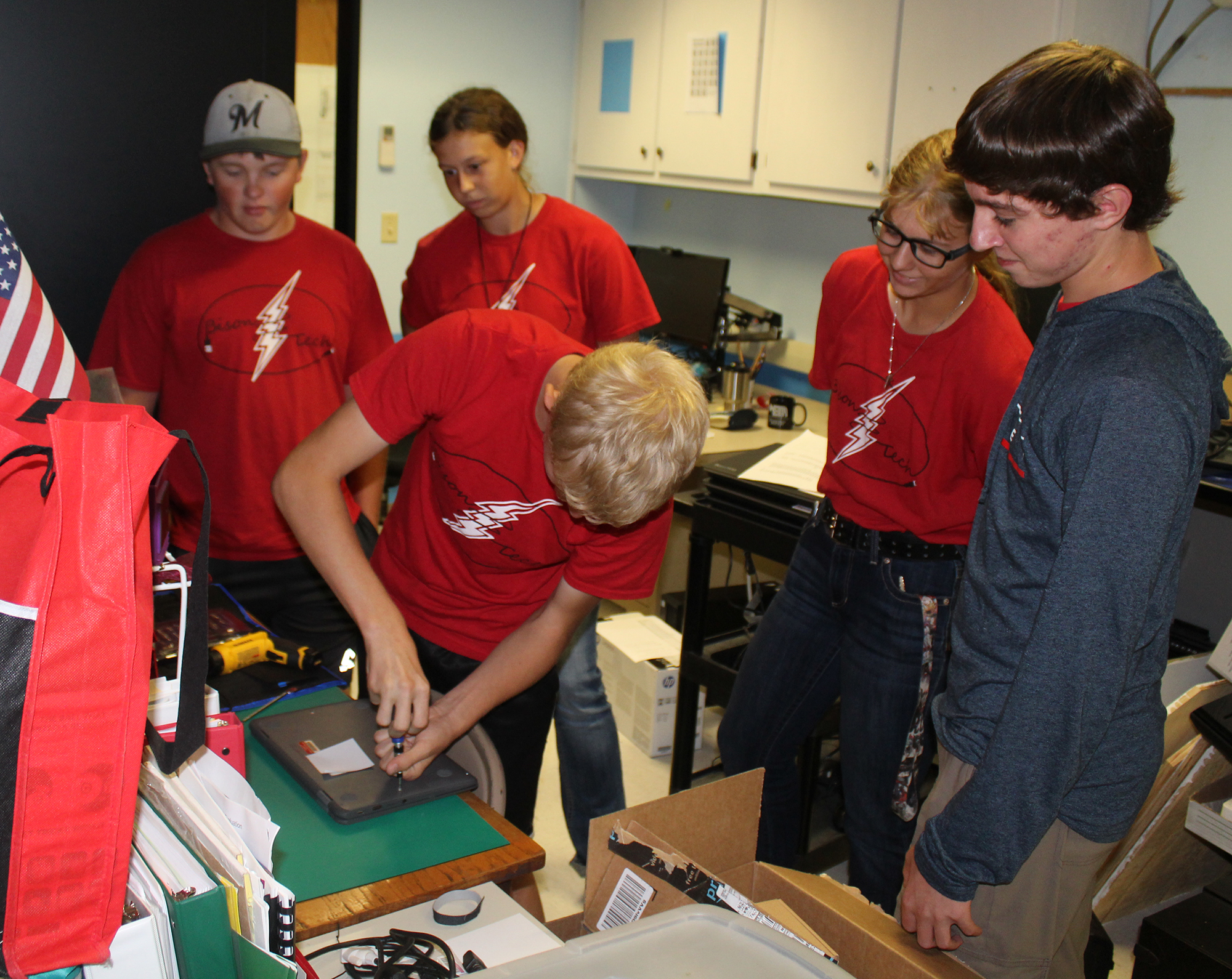 (Above: Dylan Rouse, Faith Raburn, Trinity Raburn and Aiden Barger watch Davin Brunswick take apart a Chromebook. These five and Baylor Winters, who is not pictured, make up McCook's Bison Tech Team.)
---
It's Wednesday afternoon, and the Bison Tech Team is seated around a conference table in McCook High School.
The six of them have formed a close bond. They meet with Williams at staggered times throughout the week, whenever their schedules allow for it. On Wednesdays, the group comes together to set goals and establish game plans.
"We operate a lot as teams," said Brunswick. "It's way easier to put in a projector when you have two people."
There's a lot of moving parts that keep this machine operating. The team has gained a reputation throughout the district. They're reliable and they can be counted on. Teachers with a tech problem feel comfortable reaching out to Bison Tech. Students do, too.
"When you have students who are spread throughout the school offering help with the tech support, then the people who are having problems can potentially get some of that assistance faster," said sophomore Aiden Barger. "They're taking their problems to more familiar faces, rather than having to take the long way to the tech office."
In addition to offering tech aid, being a part of the team has given members the chance to interact with students who they might not have spoken to in an ordinary day. Their paths cross with many others, and they wouldn't have it any other way.
"You meet new people, people you would never personally reach out to, because of Bison Tech," Brunswick said. "They'd come to the office, have a conversation and we'd start a Snapchat streak. Your knowledge of the school expands. You learn names. You just meet a bunch of people."
The group is small, but will hopefully expand down the road. Each year, Bison Tech offers multiple opportunities for tech-savvy students to join. At an activity fair, for example, the team sent a robot circling the grounds in an attempt to lead students to the Bison Tech information desk. For Chromebook unpacking (which Brunswick calls "one monster of a day"), the team bribed helpers with pizza and soda.
It's fun for Brunswick and his team members to lay the foundation now, but it's not always a walk in the park.
"We work hard, we don't just mess around," Brunswick said. "We might be small in numbers, but we get a lot done."
Being involved in Bison Tech has broadened horizons for the six team members. They've experienced growth in areas beyond technology, areas like interpersonal communication and problem solving.
"I have found I am able to communicate with other people better," said sophomore Dylan Rouse. "Speaking with teachers and finding out what their problem is and how it needs to be resolved, I've grown in those areas."
Williams sees it every day.
"That's the joy of teaching," she said. "Seeing them speak without turning red, or listening to them work together to come up with great ideas that are helpful to everyone in the district. I love that. That growth definitely gives me joy in my job."
No day is every exactly like the one before. It's chaotic, at times, but the Bison Tech Team thrives in the chaos. In fact, it's the ability to find stability in the midst of a hectic day that will ultimately help them the most down the road.
For senior Trinity Raburn, who plans on going into the military before pursuing a career in web design or something similar, the knowledge she's acquired will only serve as a boost towards those goals.
"This has helped me learn more about computers," she said. "Now, I know how to take apart the back and actually fix a mouse or a charger. I know how to set up computer labs and I know where everything is in our district."
As the conversation winds down, Williams thinks of another question for her team.
"If it weren't for Bison Tech, what else would you be doing?"
It's a rhetorical question, really, but Brunswick provides a literal answer.
"I'd probably be at home, sleeping."
More than likely, his phone would stay silent through the night.
But where's the fun in that?
"We're putting in our time to help our school, to help our teachers, and to help the district grow," Brunswick said.
"We love what we do, and that's why we're here."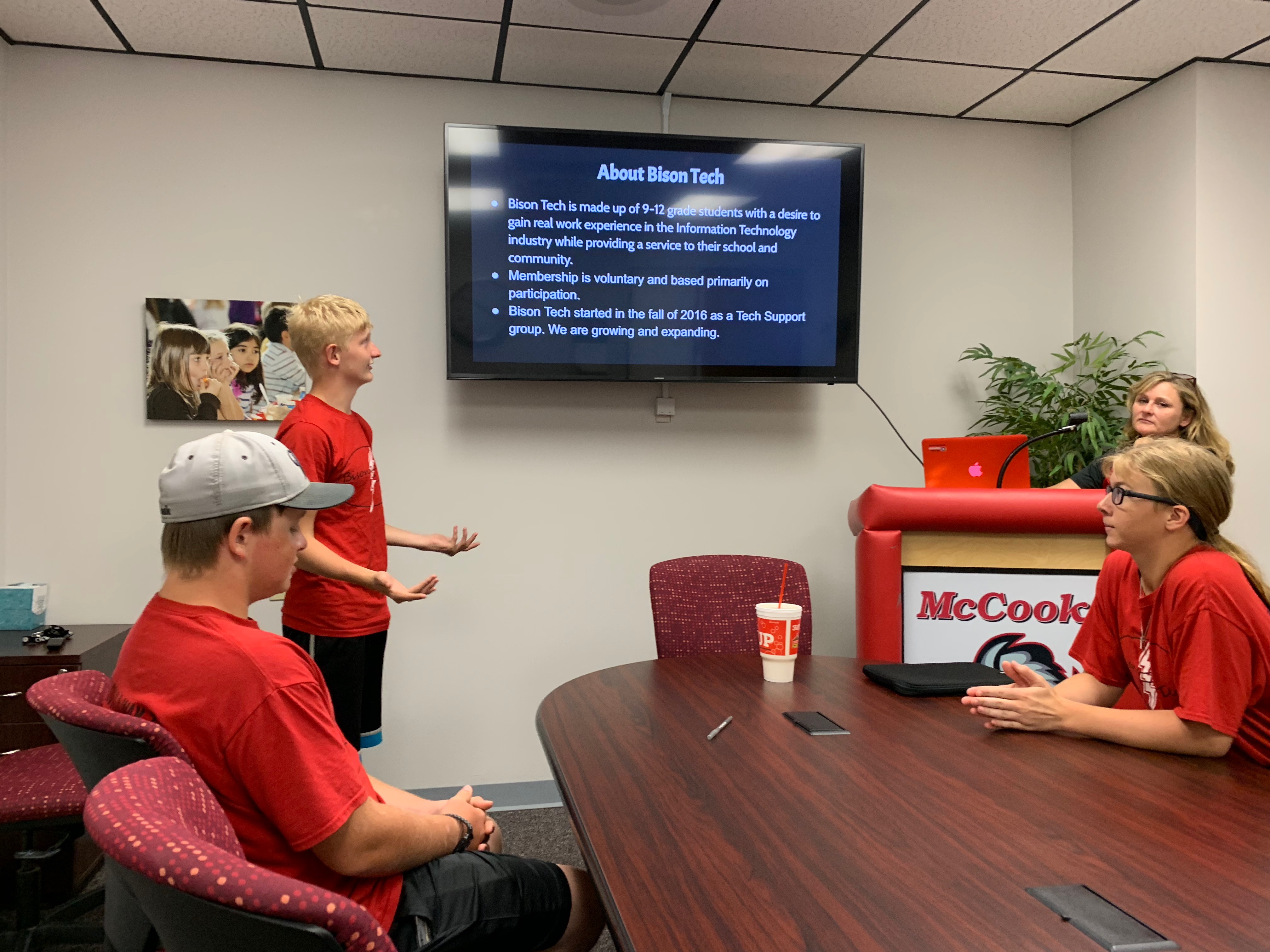 They Said It!
"As far as the digital world, I still don't know how to use Snapchat or Instagram, but I think I learned a long time ago that I'm a better teacher if I learn with my students, and we both benefit from that. It's the best way to go, that interaction and trying to get away from that traditional teacher-student role with a wall between us instead of working together."-Tina Williams
"I think there's some fear from older generations, that fear of technology and allowing students to take control over their own learning. To me, that's the biggest roadblock."-Tina Williams
"Everything's a risk. If it's worthwhile, it's risky, and you just have to try to focus on the positive."-Tina Williams
"In this district, the teachers are always trying to help you get better. If you ask them a question, they'll do whatever they can to make it easier for you to come to an answer."-Dylan Rouse
"When you say you have a certain profession in mind for your future, the teachers here will tell you which classes you should look into, or how to start making the plans to get you to that goal."-Trinity Raburn
"I like how everyone here is supportive and they always are willing to help you with a dream." Faith Raburn, Sophomore at McCook
"Our administration has always been behind what we're doing, 100 percent."-Tina Williams
"It feels great knowing that the principal likes what I'm doing and is interested in what my opinion is. It feels good having that support from the administration."-Davin Brunswick